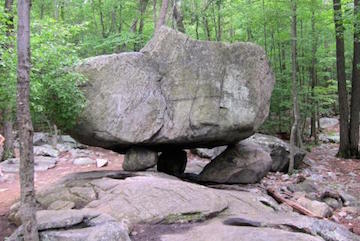 In Grist Mill Road, readers are treated to a mini lesson in how glaciers can shape landscape. Chatter marks, cobbles, and glacial erratics are all terms we come across in the story. What are they and how does a glacier alter the landscape over the ages?

When a large and heavy object moves very very slowly it has the potential to greatly impact its surroundings. Glaciers alter the landscape in two fundamental ways: they carve out valleys (think fjords) and transport significant volumes of debris including rocks.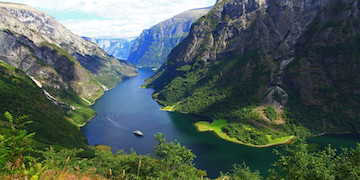 Glaciated valleys are created when glaciers pass through large mountains. If you notice sheer mountain cliffsides with very narrow inlets, those are likely carved by glaciers. Fjords in Norway are trough-shaped with steep sides. As the inlets or valleys are carved, other bodies of water fill in the space. A cirque is a rounded shape on a mountainside, almost like an amphitheater, which is carved by glaciers too.

Have you ever hiked the woods and run into a huge boulder...