Che Guevara
This article relates to Next Year in Havana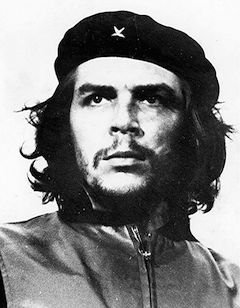 Next Year in Havana is partially set during the Cuban Revolution (1953-1959). Che Guevara (1928-1967) was one of the Revolution's central figures. Although he does not appear directly in Next Year in Havana, the cause he fought for forms the backdrop to much of the story.

Born Ernesto Guevara de la Serna in Rosario, Argentina, Guevara was the eldest of the five children in his middle-class family. As a young man he studied medicine at the University of Buenos Aires and traveled widely throughout South and Central American while on breaks. During these excursions, he witnessed widespread poverty and oppression. His 1951 motorcycle trip through Argentina, Chile, Peru, Ecuador, Colombia, Venezuela, Panama and Miami (immortalized in his journal, The Motorcycle Diaries: Notes on a Latin American Journey, which was adapted into the 2004 American film The Motorcycle Diaries), was a turning point; during that tour, he became convinced that Marxism was the only solution to the miserable conditions endured by Latin Americans, and that only violent revolution would bring change.

In 1953, Guevara traveled to Guatemala, where Jacobo Arbenz was instituting social reforms and consequently running afoul of wealthy corporations. One of the wealthiest, banana exporter United Fruit Company, subsequently lobbied the United States Government to intervene. The CIA sponsored a coup that overthrew the Arbenz regime in 1954, and this act cemented Guevara's conviction that the United States would always oppose leftist governments.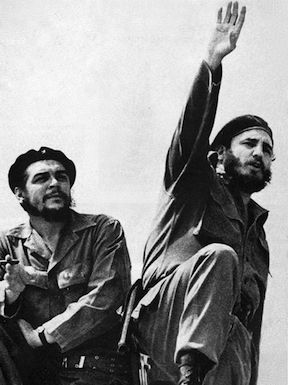 Guevara met Fidel and Raul Castro in Mexico later that same year and agreed to join the Castro brothers' attempt to overthrow Cuba's oppressive Batista government. He joined Fidel Castro's "26 of July Movement" as the group's doctor, landing with the force of 81 men in the Cuban province of Oriente on December 2, 1956. The invasion failed and the men were almost entirely wiped out, with the survivors (including a wounded Guevera) fleeing to the Sierra Maestra. The organization slowly gained strength, however, capturing weapons and winning the support of local villagers (and consequently recruiting more soldiers to the cause). Guevara became known as a brilliant military strategist and led many successful guerrilla raids against Batista forces; Fidel Castro considered him one of his most trusted aides. He was rumored to be fearless as well as ruthless; he ordered the execution of all deserters as well as anyone suspected of being a spy. Guevara documented this period of the Revolution in a journal which was published in 1968 as Reminiscences of the Cuban Revolutionary War.

After the success of the Revolution, Castro put Guevera in charge of La Cabana Fortress Prison, where it's estimated he ordered the summary execution of up to 500 people he dubbed "enemies of the Revolution." He also instituted Cuba's labor camp system, similar to the USSR's gulags. He later became president of the Cuban national bank, which helped him shift Cuba's trade relations from the United States to the Soviet Union, and was subsequently named the Minister of Industry, which allowed him to carry out plans for land redistribution and the nationalization of the country's industry. In these roles he travelled extensively and became well-known in the West for his opposition to US foreign policy. He addressed the United Nations' General Assembly in 1964, condemning the United States for its interference in Cuban affairs.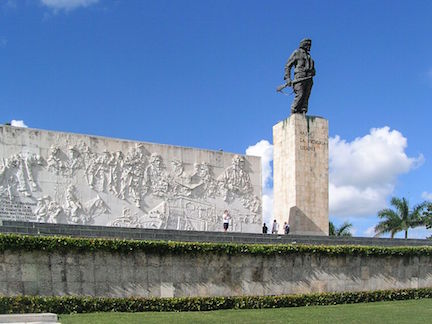 Many of Guevara's policies began to fail, due to economic sanctions imposed by the United States as well as increasing opposition at home, and he gradually lost the support of Cuba's political elite. He also became disillusioned with the Soviet Union, primarily because it insisted on treating Cuba as a client state rather than a partner; he felt particularly betrayed when the Soviets removed their missiles from Cuba without consulting Cuba's leadership. He rejected his Cuban citizenship and journeyed across Latin American with the intent of fomenting revolution in other parts of South and Central America. In 1966 while leading a guerrilla group in the Santa Cruz region he was captured by the Bolivian army (with CIA assistance), executed a few days later and buried in a secret location. This location was discovered in 1997, and Guevera's remains were exhumed and taken to Cuba for permanent interment

Guevara's name continues to be well-known, equated with rebellion, revolution and socialism. He was an inspiration to the left-wing counter-culture in the United States and Western Europe during the 1960s and 1970s, and some continue to think of him a martyr. Others, however, revile him as a brutal, merciless leader who merely replaced one oppressive regime with another.
Che Guevara
Guevara and Fidel Castro
Che Guevara Monument
by Kim Kovacs
Filed under People, Eras & Events
This article relates to Next Year in Havana. It first ran in the February 21, 2018 issue of BookBrowse Recommends.
This review is available to non-members for a limited time. For full access become a member today.
Membership Advantages
Reviews
"Beyond the Book" articles
Free books to read and review (US only)
Find books by time period, setting & theme
Read-alike suggestions by book and author
Book club discussions
and much more!
Just $45 for 12 months or $15 for 3 months.