Prison Labor
This article relates to Sing, Unburied, Sing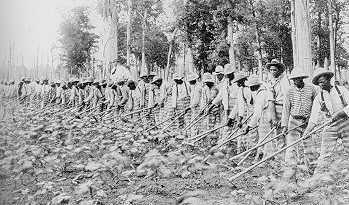 In Sing, Unburied, Sing, Pop serves time at the notorious Parchman prison in Mississippi, the maximum security state penitentiary. While a prisoner, he toils in the cotton fields. "I'd worked, but never like that," he recalls. "Never sunup to sundown in no cotton field. Never in that kind of heat. It's different up there. The heat. Ain't no water to catch the wind and cool you off, so the heat settles and bakes. Like a wet oven."

If this sounds like slavery that's because it essentially is. And while slavery was declared unconstitutional in the United States in 1865, with the Thirteenth Amendment to the Constitution, a small but significant exception paved the way for prisoners to be used as free labor. "Neither slavery nor involuntary servitude, except as punishment for crime whereof the party shall have been duly convicted, shall exist within the United States, or any place subject to their jurisdiction." By inserting this exception, the country ensured that prisoners, in essence, could be used as slaves without any constitutional rights whatsoever. Ironically, prisons such as Parchman were built on slave plantations.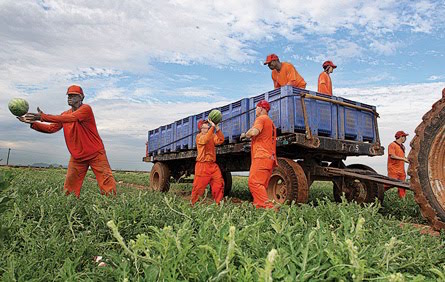 Such use of prison labor in the United States has been going on at least since the Reconstruction era after the Civil War. Some prison laborers are compensated, although they make as little as 12 to 40 cents an hour, but others work without wages at all.

For a while workers' unions actively campaigned against the practice as their low wages would undercut workers' pay. But in the '70s, after years of persistent lobbying from the private sector, national programs were developed as a way of using low-wage or free prison labor in for-profit enterprises. Today, prison labor is used to staff call centers (yup, like the Bangalore ones), and make mattresses and lingerie cheaply — very cheaply. Prisoners cannot refuse to serve. If they do, they face punishment and the loss of whatever few privileges they might enjoy, such as visitation rights.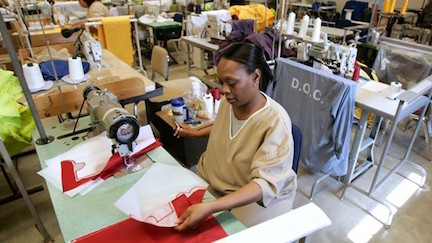 Questions have been raised about the morality of using such labor, but those on the other side claim that work, no matter how little it pays, is a way to rehabilitation for prisoners. Doing something, the argument goes, is a way of feeling like you're a productive member of society. Some people suggest that if citizens beyond the bars have to work every day for a roof over their heads, so too should prisoners. These debates have vocal participants on both sides. For now, with the prison industrial complex on the rise, the use of prison labor won't decrease any time soon.
Convict Laborers at Parchman Prison in 1911.
Inmates working on a farm and for McDonalds, courtesy of returntonow.net
Filed under Society and Politics
This "beyond the book article" relates to Sing, Unburied, Sing. It originally ran in October 2017 and has been updated for the May 2018 paperback edition. Go to magazine.
This review is available to non-members for a limited time. For full access become a member today.
Membership Advantages
Reviews
"Beyond the Book" articles
Free books to read and review (US only)
Find books by time period, setting & theme
Read-alike suggestions by book and author
Book club discussions
and much more!
Just $45 for 12 months or $15 for 3 months.