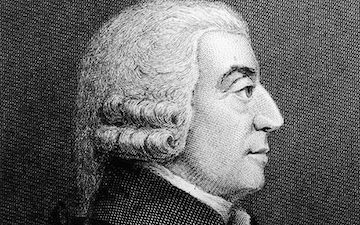 The title of M.T. Anderson's Landscape With Invisible Hand, (and perhaps its protagonist's name), contains a reference to the theories of the Scottish economist Adam Smith, whose landmark 1776 work The Wealth of Nations laid the groundwork for modern free-market economic theory. To laypeople, Smith may be best known for his concepts of the division of labor and its concomitant increase in productivity, as well as his contention that self-interest and competition result in the greater good for society.

This last point is part of what's implied in Smith's famous usage of the term "invisible hand," a metaphor meant to suggest that, in the absence of regulation, human economic self-interest will lead people to act in ways resulting in broader societal benefits than would a heavily regulated environment where choice is more limited. In The Wealth of Nations, Smith explains:
But the annual revenue of every society is always precisely equal to the exchangeable ...