Adam Smith and his Wealth of Nations
This article relates to Landscape with Invisible Hand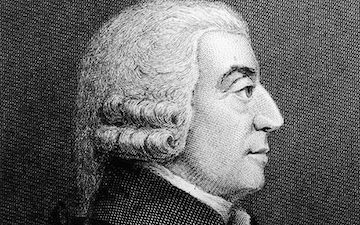 The title of M.T. Anderson's Landscape With Invisible Hand, (and perhaps its protagonist's name), contains a reference to the theories of the Scottish economist Adam Smith, whose landmark 1776 work The Wealth of Nations laid the groundwork for modern free-market economic theory. To laypeople, Smith may be best known for his concepts of the division of labor and its concomitant increase in productivity, as well as his contention that self-interest and competition result in the greater good for society.

This last point is part of what's implied in Smith's famous usage of the term "invisible hand," a metaphor meant to suggest that, in the absence of regulation, human economic self-interest will lead people to act in ways resulting in broader societal benefits than would a heavily regulated environment where choice is more limited. In The Wealth of Nations, Smith explains:
But the annual revenue of every society is always precisely equal to the exchangeable value of the whole annual produce of its industry, or rather is precisely the same thing with that exchangeable value. As every individual, therefore, endeavours as much as he can both to employ his capital in the support of domestic industry, and so to direct that industry that its produce may be of the greatest value; every individual necessarily labours to render the annual revenue of the society as great as he can. He generally, indeed, neither intends to promote the public interest, nor knows how much he is promoting it. By preferring the support of domestic to that of foreign industry, he intends only his own security; and by directing that industry in such a manner as its produce may be of the greatest value, he intends only his own gain, and he is in this, as in many other cases, led by an invisible hand to promote an end which was no part of his intention. Nor is it always the worse for the society that it was no part of it. By pursuing his own interest he frequently promotes that of the society more effectually than when he really intends to promote it. I have never known much good done by those who affected to trade for the public good. It is an affectation, indeed, not very common among merchants, and very few words need be employed in dissuading them from it.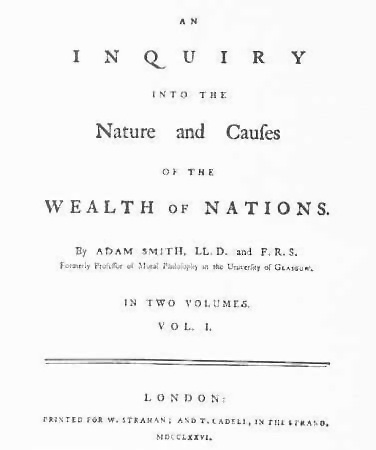 The field of economics essentially didn't exist prior to Smith, and many economists in the centuries since his writings have argued about whether his notion of the invisible hand accurately reflects Smith's own feelings about economic regulation, and if it holds up as an economic principle that should guide regulation (or lack thereof) and decision-making. Regardless, the "invisible hand" is a concept and metaphor that persists many years after Smith's writings and will likely continue to shape how modern Americans think about economics and markets, even in a world that bears very little resemblance to the one Smith was analyzing.
Adam Smith, courtesy of www.adamsmith.org
First page of Wealth of Nations, 1776 London edition
This "beyond the book article" relates to Landscape with Invisible Hand. It first ran in the September 20, 2017 issue of BookBrowse Recommends.
This article is available to non-members for a limited time. You can also read these articles for free. For full access, become a member today.
Membership Advantages
Reviews
"Beyond the Book" backstories
Free books to read and review (US only)
Find books by time period, setting & theme
Read-alike suggestions by book and author
Book club discussions
and much more!
Just $10 for 3 months or $35 for a year