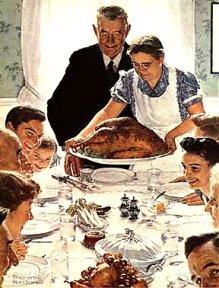 In Seven Days Of Us, Francesca Hornak has her characters quarantined for seven days during the holiday season; Days trapped with one's family is stressful enough, but the added pressure of "The Holidays" can really turn up the heat. 

So why, one might ask, are the holidays a particularly stressful time for so many? First, for those who celebrate Christmas, there's a myth that it's a joyful, stress-free time when one is supposed to feel love for all humankind. Those of us in the West – even those who don't necessarily celebrate Christmas – have been brainwashed by Charles Dickens' A Christmas Carol, in which families from all walks of life celebrate merrily, even those in impoverished conditions. Something deep inside many of us wants the Normal Rockwell/Hallmark Card family gathering.

WebMD includes an interview with Ken Duckworth, MD, medical director of the National Alliance on Mental Illness, who outlines several possible reasons stress is at ...