Radium: The Dangerously Radioactive Element
This article relates to The Radium Girls
The high demand for radium is at the heart of Kate Moore's book, The Radium Girls.

Radium is a naturally occurring element, most of which is found in uranium ore; it makes up approximately 1 part per trillion of the Earth's crust, making it our planet's 84th most common component. One ton of uranium ore can contain as little as 0.14 grams of radium. We're constantly exposed to this highly toxic metal, but in very minute amounts.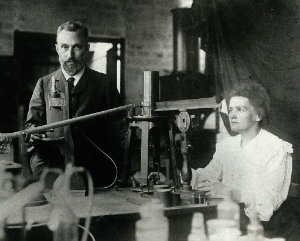 The element was discovered by Pierre and Marie Curie in December 1898. While working to separate uranium from a mineral called pitchblende, Marie discovered that the material remaining after the uranium was removed was actually more radioactive than the chemical they originally sought. After refining tons of pitchblende (now known as uranite), Curie narrowed down the source of the radiation to two previously unknown elements: polonium and radium. Curie further discovered that radium – a soft, shiny, silvery metal - was about 3 million times more radioactive than uranium. The radium sample, which was identified as a new element, emitted a faint blue glow in the dark.

Radium's dangerous nature was a concern very soon after its discovery. French physicist Henri Becquerel (who shared the 1903 Nobel Prize in Physics with the Curies), carried a small vial of the substance in his waistcoat for just six hours before finding the skin beneath the material had ulcerated. After handling radium, many other scientists suffered burns that would not heal.

Nevertheless, some experiments with radium led doctors to believe the substance was not only safe but beneficial. Although it was shown that radium leached into human bone as early as 1914, it was thought that it stimulated bone marrow to produce more red blood cells – an obvious health benefit. With that information, manufacturers started to put radium in everything from tonics to toothpastes to cosmetics to children's toys. Fortunately, although a number of products said they contained radium, it was very expensive to produce. Consequently, anything that truly contained radium only included small amounts and were sold to a very exclusive clientele. As NPR put it: "Radium was the latest miracle substance — an element that glowed and fizzed, which salesmen promised could extend people's lives, pump up their sex drive and make women more beautiful. Doctors used it to treat everything from colds to cancer."

What scientists and doctors didn't realize at the time was that the increase in red blood cells was because radium degraded the marrow and mutated bone cells. The end result was that bones that absorbed radium, disintegrated causing necrosis of the bone and eventually, death.

Radium-226 has a half-life of approximately 1600 years, which means anything exposed to large amounts of radium can remain radioactive for a very long time. Eben Byers (1880-1932), who created and sold an "energy drink" that contained it, died from radium-induced cancer and was buried in a lead-lined coffin. When his body was exhumed in 1965, his bones were found to contain almost as much radium as they would have on the day he died. The lab notebooks used by the Curies are too contaminated to be safely handled to this day. After the "Radium Girls" won lawsuits against their employers for exposing them to a known health risk, use of radium to create read-in-the-dark devices waned, although radioactive rays from radium are easily blocked by glass or metal, so the material is safe if precautions are taken.

Radium's use has recently seen a revival as a treatment for cancer; in 2013 the U.S. Food and Drug Administration approved radium-223, a different version from the radium-226 that plagued the radium girls, for use in patients with advanced prostate cancer that has metastasized to the bone, since modern technology can concentrate radium in a specific area, thereby targeting cancerous bone cells.


Filed under Medicine, Science and Tech
This "beyond the book article" relates to The Radium Girls. It originally ran in June 2017 and has been updated for the March 2018 paperback edition. Go to magazine.
This review is available to non-members for a limited time. For full access become a member today.
Membership Advantages
Reviews
"Beyond the Book" articles
Free books to read and review (US only)
Find books by time period, setting & theme
Read-alike suggestions by book and author
Book club discussions
and much more!
Just $45 for 12 months or $15 for 3 months.