The high demand for radium is at the heart of Kate Moore's book, The Radium Girls.

Radium is a naturally occurring element, most of which is found in uranium ore; it makes up approximately 1 part per trillion of the Earth's crust, making it our planet's 84th most common component. One ton of uranium ore can contain as little as 0.14 grams of radium. We're constantly exposed to this highly toxic metal, but in very minute amounts.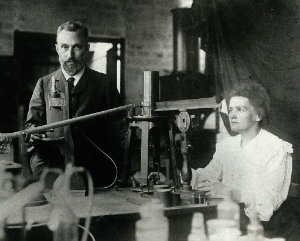 The element was discovered by Pierre and Marie Curie in December 1898. While working to separate uranium from a mineral called pitchblende, Marie discovered that the material remaining after the uranium was removed was actually more radioactive than the chemical they originally sought. After refining tons of pitchblende (now known as uranite), Curie narrowed down the source of the radiation to two previously unknown elements: polonium and radium. Curie further discovered that radium – a soft, shiny, silvery metal - was about 3 million times ...