Deadly Viruses
This article relates to Inferno
Ebola, the viral disease at the core of Steven Hatch's medical memoir, Inferno, is among the most deadly diseases in the world. It is not alone, however, in its lethality; other viruses are at least as likely to be fatal.

There's some debate as to the "most fatal" virus in the world since it depends on what criteria you use (e.g., percentage of those infected who die, total number of people who succumb, etc.), but some of the better known ones are listed below.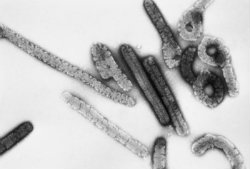 The Marburg virus with a mortality rate approaching 90% tops many agencies' lists. It's closely related to Ebola and its symptoms are indistinguishable from it; it requires a blood test to tell them apart. Like Ebola, the Marburg virus causes "wet symptoms" such as unstoppable diarrhea and vomiting as well as bleeding of the mucus membranes. The first known outbreak occurred simultaneously in labs in Germany and Yugoslavia. The infected individuals all had contact with blood, organs or cell cultures from a batch of infected monkeys from Uganda. It's believed the virus's host is the fruit bat, and that both humans and primates can contract the disease from them. The virus is transmitted from person to person through exposure to bodily fluids including sweat – so hugging your infected loved one can be fatal. The largest outbreak to date occurred in Angola in 2005, where 329 of the 374 known cases died.

Also on numerous deadly virus lists is the hantavirus, which is a family of viruses that uses rodents such as rats, mice and voles as transmission vectors. The infected animal secretes virions – the infectious particle that transmits a virus to the individual – in its droppings. People contract hantavirus by breathing in dust contaminated with the virus. Two types of illnesses can result from hantavirus. The first is a hemorrhagic fever with renal syndrome (HFRS), and has been seen in eastern China, Russia and Korea. About 150,000 cases are confirmed each year, 15% of which are fatal. The other type is hantavirus pulmonary syndrome (HPS), first discovered in the United States "Four Corners" area in the Southwest in 1993, although subsequent investigation identified possible infections as early as 1959, and the Navajo living in the area were acquainted with it long before. Although not as prevalent as HFRS, this version of the hantavirus has a higher mortality rate of close to 35%.

Also spread by rodents is the Lassa virus, an acute hemorrhagic fever first described in the 1950s in the Nigerian town of Lassa. People can contract the disease by contact with rat urine or feces, but unlike the hantavirus, it can also be passed from person to person via bodily fluids. The infection is mild in about 80% of cases, but in the most severe ones it can cause bleeding into the skin, mucus membranes and deeper tissues, and this usually results in death. Diagnosis can be difficult because its initial symptoms are similar to those of malaria, which is common in the areas in which Lassa may be found.

Dengue fever is a viral infection spread by mosquitoes native to tropical locales. According to the World Health Organization, up to 40% of the world's population live where Dengue is endemic. The virus often begins with flu-like symptoms that quickly morph into more serious ailments such as an extremely high fever and bleeding from the nose and gums. The symptoms can progress to a condition characterized by massive bleeding, shock and death known as Dengue Shock Syndrome (DSS).


Picture of Marburg virus from Centers for Disease Control

Filed under Medicine, Science and Tech
This article relates to Inferno. It first ran in the May 3, 2017 issue of BookBrowse Recommends.
This review is available to non-members for a limited time. For full access become a member today.
Membership Advantages
Reviews
"Beyond the Book" articles
Free books to read and review (US only)
Find books by time period, setting & theme
Read-alike suggestions by book and author
Book club discussions
and much more!
Just $45 for 12 months or $15 for 3 months.