Ebola, the viral disease at the core of Steven Hatch's medical memoir, Inferno, is among the most deadly diseases in the world. It is not alone, however, in its lethality; other viruses are at least as likely to be fatal.

There's some debate as to the "most fatal" virus in the world since it depends on what criteria you use (e.g., percentage of those infected who die, total number of people who succumb, etc.), but some of the better known ones are listed below.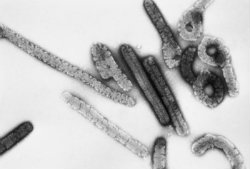 The Marburg virus with a mortality rate approaching 90% tops many agencies' lists. It's closely related to Ebola and its symptoms are indistinguishable from it; it requires a blood test to tell them apart. Like Ebola, the Marburg virus causes "wet symptoms" such as unstoppable diarrhea and vomiting as well as bleeding of the mucus membranes. The first known outbreak occurred simultaneously in labs in Germany and Yugoslavia. The infected individuals all had contact with blood, organs or cell cultures from a batch of ...