Mark Kurlansky's Havana begins with this poetic snippet:
El corazón es un loco
Que no sabe de un color.
(The heart is a fool
that knows no color.)
The composer is the highly regarded José Martí, a significant figure in the pantheon of Latino writers, and more especially, in the small but distinguished group of Cuban revolutionaries. Born in Havana in 1853, Martí was a child prodigy whose career as a poet began in his teens. He was published before he turned 16. Even in his teens, his writing expressed his passionate belief that Cuba needed to gain independence and break from Spain, earning him a year in prison followed by exile in Spain.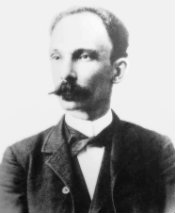 By 1875, with a law degree to his credit, Martí was able start a new life as a writer in Mexico, then Guatemala. Finally managing to return to his beloved Cuba in 1895 he was almost immediately exiled again because of his rebellious views, and wound up in New York City where he joined the Cuban Revolutionary ...