In the beginning of Lucky Boy, as Soli makes her way from Mexico to the United States, she spends several nights in a relief camp set up by Grupos Beta, a service agency operated by Mexico's National Institute of Migration (INM), that offers water, shelter, medical aid, and information to migrants at risk.

There are currently 22 Grupos Beta operations in nine Mexican states: Baja California, Sonora, Chihuahua, Coahuila, Tamaulipas, Veracruz, Tabasco, Chiapas and Oaxaca. Started in 1990 as a kind of border patrol that protects rather than detains migrants, the basic role of the federal entity is to safeguard the human rights of migrants who might face serious dangers and health risks such as heat stroke, dehydration, and hyperthermia while traveling in Mexico.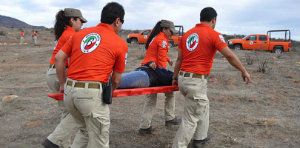 Among the many essential services provided are water and air rescue for people navigating the harsh environments of canyons, mountains, and arroyos. The organization also places blue flags to mark the path that will ...