Mohammad Mossadegh
This article relates to The Gardens of Consolation
In Gardens of Consolation, one of the main characters becomes a supporter of Mohammad Mossadegh, the democratically elected prime minister of Iran, who served from 1951 – 1953 until he was ousted in a coup d'état backed by the American CIA and the British SIS.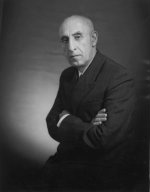 Mossadegh was born in Tehran in 1882 into a well-connected family. His father Mirza Hedayat Ashtiani, was Iran's Minister of Finance and his mother, Najm al-Saltaneh, was related to the ruling Qajar dynasty. Interestingly, "Mossadegh" was not a family name, but a title awarded by the ruling Shah in appreciation of the family's service. Later, when Iran introduced identity cards and all citizens had to be registered with a given and a family name, Mohammad supposedly chose Mossadegh because it meant "true and authentic." He began his political career at the age of 15 when he was appointed Chief of Finance to one of Iran's provinces. At 19, he married Zia al-Saltaneh, another member of the Qajar family, a granddaughter of the Shah, and a princess in her own right.

He participated in the Iranian Constitutional Revolution (1905-1911) which led to the establishment of a parliament, the Majlis. This cataclysmic change in the political structure of the country initiated what's considered the modern period in Iran's history, characterized by a continual back-and-forth struggle between social reform and autocratic rule.

Mossadegh was elected as a delegate to the first Majlis at the age of 24. He remained active in various offices through the end of 1925, when the Majlis – heavily influenced by the British government – deposed the ruling Shah in favor of Reza Shah Pahlavi, the first ruler of Iran's short-lived Pahlavi dynasty. Mossadegh, who had backed the previous rulers, retired from politics at that time because of disagreements with the new regime. Although he kept a low profile, living on a farm in a village outside Tehran, Reza Shah had him arrested in 1940. Mossadegh spent months in jail, finally being released to house arrest which only ended when the British forced Reza Shah to abdicate in favor of his son, Mohammad Reza Shah Pahlavi (the Shah whom modern Westerners generally have in mind when they refer to The Shah of Iran).

Elected to the 14th Majlis in 1944, Mossadegh resumed his political career, concentrating his energies on returning oil rights to the people of Iran. The British owned 51% of the Anglo-Persian Oil Company, which was later called the Anglo-Iranian Oil Company or AIOC, and had exclusive rights to the country's supply. Mossadegh envisioned an Iran that was democratic and free from outside influence, and to that end he sought to nationalize the country's oil industry. Gaining support over the ensuing years, he was able to achieve his goal on March 20, 1951, when the Majlis passed a bill disbanding the AIOC as of May 1 of that year, turning control of the oil fields to the state. Mossadegh was elected Prime Minister shortly afterwards.

Mossadegh's administration introduced a number of social reforms popular with the country's poor and peasant class, who comprised the majority of its citizens. He managed to pass laws requiring that unemployment compensation and health care benefits be provided by large employers, and freed the peasants from forced labor on their landlord's estates. His Land Reform Act mandated that landlords put 20% of their revenue into a fund that would then be used to provide rural housing, public baths and pest control.

Tensions between the Iranian and British governments escalated however; Iran refused to allow Britain any involvement in its oil industry, and Britain kept Iran from being able to sell any oil by instituting what amounted to a naval blockade of the Persian Gulf. Oil production dropped from over 240 million barrels in 1950 to just 10 million in 1952 – while the newly formed British Petroleum company (BP) increased production in Saudi Arabia and Iraq. Although Mossadegh remained very popular with the people – most lived in the rural areas and benefited greatly from his social policies – royalists in the Majlis began consolidating their opposition. After a confrontation with the British-backed Shah, Mossadegh resigned in 1952, only to be reinstated due to resulting riots. The Shah again attempted to dismiss him in early 1953, but the peoples' reaction was so violent that the Shah fled the country.

Meanwhile, the British government's relationship with Mossadegh became increasingly antagonistic, and in 1953, British Prime Minister Winston Churchill, approached the incoming U.S. President Dwight Eisenhower about the need to oust Mossadegh. He implied that Mossadegh's policies were moving Iran closer to a relationship with the Communist Soviets. Eisenhower subsequently authorized an operation to remove Mossadegh, and the plot, code-named Operation Ajax, was put into action. After much coercion and bribery of royalist backers, Mossadegh was overthrown in a CIA-orchestrated coup on August 19, 1953. The action effectively ended the constitutional monarchy, returning the government to direct rule of the Shah until he himself was overthrown and the monarchy abolished in the 1979 Iranian Revolution.

In the aftermath of Mossadegh's overthrow, oil once again flowed from Iran to the rest of the world (primarily to the US and Great Britain). Many of Mossadegh's followers were arrested, tortured and shot, while he himself was sentenced to solitary confinement for three years. He was released but kept under house arrest until his death on March 5, 1967.


Picture of Mohammad Mossadegh from bbcpersian.com

Filed under People, Eras & Events
This article relates to The Gardens of Consolation. It first ran in the January 4, 2017 issue of BookBrowse Recommends.
This review is available to non-members for a limited time. For full access become a member today.
Membership Advantages
Reviews
"Beyond the Book" articles
Free books to read and review (US only)
Find books by time period, setting & theme
Read-alike suggestions by book and author
Book club discussions
and much more!
Just $45 for 12 months or $15 for 3 months.