Acclaimed crime novelist Peter May is famous for a trilogy of novels set on the Isle of Lewis in the Scottish Hebrides, but in his latest outing, Coffin Road, he has moved his sights south, to the harder, rockier terrain of the Isle of Harris.

Although Lewis and Harris are always referred to as if they are two separate islands, they are in fact one continuous landmass – most easily differentiated by their very different geography. Lewis is famous for its peaty soil and largely flat terrain. Harris on the other hand is much harsher, vividly displaying the volcanic and ice-age geological upheaval which shaped this part of the world.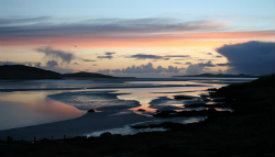 May's choice of title indicates that landscape forms a vital part of the novel. Coffin Road is an actual place, if not a driveable road: it's a track that crosses the island from the rocky east coast to the more fertile, western shores. In the past when people died on the east side of the island, they couldn't be buried there because the land ...