William and Caroline Herschel
This article relates to The Blind Astronomer's Daughter
John Pipkin brings the astronomer siblings, William and Caroline Herschel, vividly to life in The Blind Astronomer's Daughter. While the novel shines light on Caroline in particular, William, with his impressive discoveries and status as England's astronomy golden boy, provides motivation for the fictional Arthur Ainsworth's quest for renown.

William and Caroline Herschel were born in Hanover in 1738 and 1750, respectively. Today, Hanover is part of Germany; at the time it was a state within the Holy Roman Empire and the birthplace of both George I and II. George III was born in England and was simultaneously King of The United Kingdom and Hanover - although he apparently never visited the latter. Upon the invasion of the French in 1757, William fled to Bath where he began his career as a musician. As a child, Caroline contracted typhus, which left her stunted and visibly scarred. Her father encouraged her to learn a trade, as she was unlikely to attract a marriage proposal, so in 1772, Caroline emigrated to England to join her brother and take voice lessons.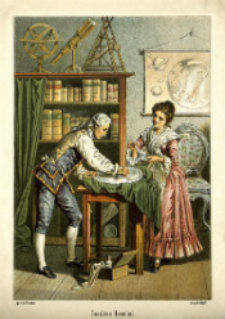 While both Herschels were quite successful in their musical careers, William developed a keen interest in astronomy and Caroline followed suit, assisting him by cleaning telescope mirrors and recording data. In 1786, Caroline became the first woman to discover a comet. She also received recognition from King George III for her work in the form of an annual salary, making her the first paid female scientist. Over the course of her career, Caroline discovered seven more comets and used her expertise to aid Astronomer Royal John Flamsteed on his quest to catalog the stars. She was the recipient of the Gold Medal of the Royal Astronomical Society and an honorary member of the Royal Society. Ever remarkable, Caroline lived to the age of 98.

William Herschel is best known for discovering Uranus in 1781, and later, its moons, which he did using a telescope of his own creation. Incidentally, Herschel did not name the planet Uranus, he called it "the Georgium Sidus" (the Georgian Planet) in honor of King George III of England. The name "Uranus" was first proposed by German astronomer Johann Elert Bode in order for it to be in conformity with the other planetary names - which are from classical mythology. Uranus is the ancient Greek deity of the Heavens, the earliest supreme god. This name did not achieve common use until 1850.

He was awarded the Copley Medal by the Royal Society of London. Afterward, financially able to devote himself to astronomy full-time, William conducted a meticulous study of the entire observable sky, cataloging stars and star clusters. He also discovered two of Saturn's seven moons, Enceladus and Mimas and coined the term "asteroid." William was knighted in 1816 and died in 1822. He was 83 years old.

William had one son, John, who took after his famous father and aunt, and who worked as an apprentice to his father. John attended the University of Cambridge where he distinguished himself as a gifted student of mathematics. John eventually traveled to the Cape of Good Hope in search of a different vantage point for his astronomical studies and made significant discoveries in astrophysics and chemistry.


Picture of William and Caroline Herschel from Wellcome Images

This "beyond the book article" relates to The Blind Astronomer's Daughter. It originally ran in November 2016 and has been updated for the September 2017 paperback edition.
This review is available to non-members for a limited time. For full access become a member today.
Membership Advantages
Reviews
"Beyond the Book" backstories
Free books to read and review (US only)
Find books by time period, setting & theme
Read-alike suggestions by book and author
Book club discussions
and much more!
Just $10 for 3 months or $35 for a year