A Satirical Elegy on the Death of a Late Famous General
This article relates to A Great Reckoning
Louise Penny often includes poetry in her books, and A Great Reckoning is no exception. Throughout the novel, A Satirical Elegy on the Death of a Late Famous General by Jonathan Swift is quoted.
His Grace! impossible! what dead!
Of old age too, and in his bed!
And could that mighty warrior fall?
And so inglorious, after all!
Well, since he's gone, no matter how,
The last loud trump must wake him now:
And, trust me, as the noise grows stronger,
He'd wish to sleep a little longer.
And could he be indeed so old
As by the newspapers we're told?
Threescore, I think, is pretty high;
'Twas time in conscience he should die
This world he cumbered long enough;
He burnt his candle to the snuff;
And that's the reason, some folks think,
He left behind so great a stink.
Behold his funeral appears,
Nor widow's sighs, nor orphan's tears,
Wont at such times each heart to pierce,
Attend the progress of his hearse.
But what of that, his friends may say, He had those honours in his day.
True to his profit and his pride,
He made them weep before he died.

Come hither, all ye empty things,
Ye bubbles raised by breath of kings;
Who float upon the tide of state,
Come hither, and behold your fate.
Let pride be taught by this rebuke,
How very mean a thing's a Duke;
From all his ill-got honours flung,
Turned to that dirt from whence he sprung.


Swift (1667-1745) is best known for his book, Gulliver's Travels, but during his lifetime he was renowned as a prolific political satirist who wrote and published pamphlets supporting England's Tory party (which championed the primacy of the British monarchy over its Parliament) and targeting the opposing Whig faction, which advocated the reverse. He was also revered as a poet, penning over 100 works including the aforementioned Elegy.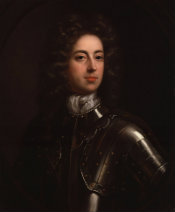 Written in 1722, the subject of the poem is the English General John Churchill, 1st Duke of Marlborough who died in his bed at the age of 72. Churchill had a long military career, obtaining his first commission at the age of 17 as an Ensign, the lowest ranking officer in the King's Own Company — an institution which later became the Grenadier Guards, the infantry regiment of the British Army. Churchill rose steadily through the ranks, fighting for James II during the Monmouth Rebellion in 1685 and serving with distinction during the Nine Years' War (1689-1697), also known as the War of the Grand Alliance, between King Louis XIV of France and most of the rest of Europe. A Whig, his fortunes waxed and waned as the party gained or lost political traction.

Toward the end of Churchill's life, the Tories were in control of the government and they brought politically motivated charges against him for supposed crimes committed during the War of the Spanish Succession (1701-1715). They accused him of war-profiteering, for receiving kickbacks from contractors and skimming 2.5% from the pay of foreign troops in English employ. Churchill didn't deny the charges, insisting instead that they were justified and authorized; nevertheless he was dismissed from his post. He returned to favor in a few years' time, remaining a favorite target of the Tory party, and Swift was one of his leading political enemies. The poem insists that he willfully created widows and orphans, and that he's truly damned for his crimes.

The Elegy has been analyzed as "so angry it sometimes forgets to be satirical: the moral castigation is paramount." The poem's first part is generally viewed as a monologue, a person who has bumped into a friend on the street, commenting on the death as the funeral procession comes into view. According to The Guardian, "The final verse is sometimes described as an epitaph, but really it's an invocation. Swift's repeated "Come hither" personally invites the damned into hell."


Picture of John Churchill, 1st Duke of Marlborough, by John Closterman from National Portrait Gallery, London

Filed under Books and Authors
This "beyond the book article" relates to A Great Reckoning. It originally ran in September 2016 and has been updated for the May 2017 paperback edition. Go to magazine.
This review is available to non-members for a limited time. For full access become a member today.
Membership Advantages
Reviews
"Beyond the Book" articles
Free books to read and review (US only)
Find books by time period, setting & theme
Read-alike suggestions by book and author
Book club discussions
and much more!
Just $45 for 12 months or $15 for 3 months.