Fascinating Facts About Orchids
This article relates to The Seed Collectors
Each of the main characters in The Seed Collectors inherits a seed pod from a rare orchid, and these play a key role in the story.

People have been fascinated with orchids since the time of the Victorians, devoting much energy and resources to raising the myriad variety of these admired beauties. Between 1838 and 1910, orchid hunters traveled the world in search of exotic varieties bringing back shipments sometimes worth up to $80,000. Orchids have been around much longer than people — they've lived on earth for at least ten to fifteen million years. (Although some research indicates that orchids could be as old as one hundred and twenty million years, placing them on earth before the continents split!)

Orchids are the largest family of flowering plants. There are more than 30,000 species occuring naturally and hundreds of thousands of hybrids added by humans. The tallest orchid species is nearly forty-four feet high. Orchid clusters can weigh as much as a ton while the smallest has a flower just over two millimeters wide with transparent petals. Orchid blooms can last only a few hours or more than half a year, depending on the species. Some species live as long as one hundred years.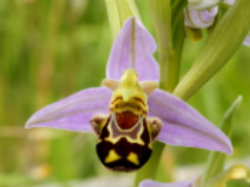 The genus name Orchis comes from the ancient Greek word for "testicle" because of the bulbous shape of the roots. Orchids come in all colors including sky blue, purest white and near black. Many orchid species have the uncanny ability to take on the qualities of the pollinating insects and birds they need to attract for pollination. For instance, the bee orchid has an appealing smell and looks like a big grinning bumble bee for the purpose of attracting male bees. The male bee lands on the flower to check out a possible mate, is covered in pollen and leaves to go on to the next bee orchid in hopes of better prospects, pollinating that flower in the process. There are orchid species that have a monkey face, an owl face, look like a dove, a delicate moth, and a flying duck.

Orchids grow wild on every continent except Antartica. Climate affects the size, shape and texture of orchid leaves; in dry climates leaves are thick and waxy whereas in warm humid climates they usually have long thin leaves or no leaves at all.

Some orchid species are unable to produce food using the usual plant method of sunlight and carbon dioxide and so depend on fungi in their roots to do this for them. Orchids produce seed pods containing millions of tiny seeds, each about the size of a speck of dust. Only a few of these minute seeds will make it to a mature plant. Orchid seeds do not have endosperm, a tissue that other plants rely on to deliver nutrients necessary for germination and therefore depend on fungi for this, too. Germination takes a couple of weeks to fifteen years.

Orchids are grown for many purposes beyond the ascetic pleasure of their beauty. They are used in perfume, spices and traditional Asian medicine. Vanilla usually comes from an orchid, pods from the species Vanilla planifolia. So the next time you use vanilla in your baking, you can thank an orchid.


Picture of bee orchid by Hans Hillewaert

This "beyond the book article" relates to The Seed Collectors. It originally ran in June 2016 and has been updated for the April 2017 paperback edition.
This review is available to non-members for a limited time. For full access become a member today.
Membership Advantages
Reviews
"Beyond the Book" backstories
Free books to read and review (US only)
Find books by time period, setting & theme
Read-alike suggestions by book and author
Book club discussions
and much more!
Just $12 for 3 months or $39 for a year