Emotional Support Animals
This article relates to Spill Simmer Falter Wither
In Spill Simmer Falter Wither, One Eye provides a lot of emotional support to Ray.

Anyone who has owned a pet knows how much they can contribute to emotional well-being — studies at University of Missouri's College of Veterinary Medicine's Research Center for Human and Animal Interaction show that interacting with animals increases our level of the hormone oxytocin, making us happier and more trusting. So in a general sense, all our animal companions might be considered emotional support animals. But there are laws and rules that govern the claim that an animal is an official ESA with the legal rights that go with the designation.

Contrary to what many believe, an Emotional Support Animal is not legally the same as a service animal. A service animal is defined by Title 11 and Title 111 of the ADA (American Disabilities Act) as any dog (service animals are only dogs or occasionally miniature horses) trained to do work or perform tasks that benefit a person with physical, sensory, psychiatric, intellectual or other mental disability. The service animal might perform such tasks as pulling a wheelchair, retrieving dropped items, alerting a person to a sound, reminding a owners to take medication, opening and closing doors or pushing an elevator button.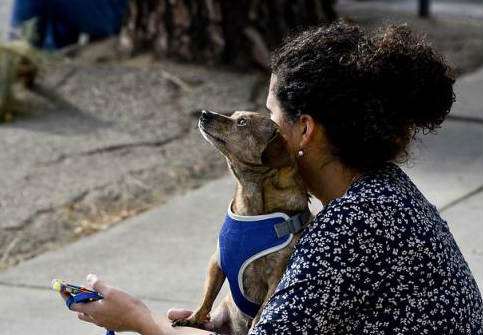 The ADA goes on to state that Emotional Support Animals, comfort animals and therapy dogs are not considered service animals under Title 11 and Title 111 of the ADA. But according to NSAR—the National Service Animal Registry—Emotional Support Animals (usually dogs but they can be cats, birds, iguanas or any other species) are often used as part of a person's medical treatment by providing companionship, relieving loneliness, and helping people cope with depression, anxiety and certain phobias. To blur the lines even more, a Psychiatric Service Dog, legally a service animal, is trained to help people disabled by their psychiatric condition by being able to detect an oncoming psychiatric episode, remind the person to take medication, stop self-mutilation, assist people suffering from PTSD and keep disoriented persons out of harm. Because of some function overlap, the line between a Psychiatric Service Animal and an ESA can be pretty thin but the main difference between an ESA and a Psychiatric Service Dog is that an ESA hasn't necessarily received any specific training to perform its task.

Service animals and ESAs have different legal rights. Unlike a service animal, an ESA does not have the right to access all public places. However, the U.S. Department of Housing and Urban Development considers an ESA to be one type of assistance animal which they define as one that works, provides assistance or performs beneficial tasks to help a person with a disability or provides emotional support that helps relieve symptoms and effects of a person's disability. Under the Fair Housing Act, an ESA is considered "reasonable accommodation" in a housing unit with a "no pets" rule.

Another law that includes rights for an ESA is the Air Carrier Access Act passed in 1990 that prohibits discrimination of disabled persons when traveling by air. The Air Carrier Act requires airlines to accommodate people with verified identification traveling with an ESA. Airlines are not allowed to charge fees for accommodating them.

Acquiring a valid ESA letter requires a psychological diagnosis by a licensed mental health professional—a therapist, psychologist or psychiatrist. The letter must state that the person needs the assistance of an ESA to minimize the negative symptoms of their emotional or psychological disability. In contrast, a service animal can be used without a letter from a physician or psychiatrist. If a handler with a service animal is legally challenged, however, he or she is required to verbally confirm disability and also provide evidence of what the service dog is trained to do.

There is much controversy, both in public and the courts, over the definitions and rights given to ESAs, mostly stemming from their lack of training and the potential for dogs to bark and annoy others. And because it is quite easy to purchase a vest, tags and official-looking documents online, there is concern about people abusing the rules so that their pet can fly for free or live in housing with "no pet" rules.



Editor's Note: You can learn more about search-and-rescue dogs in our Beyond the Book for Breaking Wild.


Picture of woman with dog from gingertail

Filed under Medicine, Science and Tech
This "beyond the book article" relates to Spill Simmer Falter Wither. It originally ran in May 2016 and has been updated for the March 2017 paperback edition. Go to magazine.
This review is available to non-members for a limited time. For full access become a member today.
Membership Advantages
Reviews
"Beyond the Book" articles
Free books to read and review (US only)
Find books by time period, setting & theme
Read-alike suggestions by book and author
Book club discussions
and much more!
Just $12 for 3 months or $39 for a year.