Occupy Wall Street
This article relates to Your Heart Is a Muscle the Size of a Fist
Your Heart Is a Muscle the Size Of a Fist is built around the 1999 street protest in Seattle against the World Trade Organization. Its core message of capitalism and globalization smothering the lifeblood out of an individual has been mirrored in demonstrations before and since, most notably in the Occupy Wall Street movement that was conceived in the fall of 2011, after the Great Recession had wreaked havoc on the American middle class.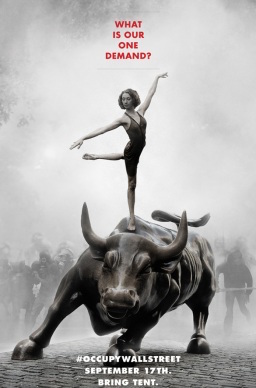 The call to arms, as it were, was brought about by a small Canadian anti-consumerist, pro-environment magazine called Adbusters. The instructions were simple: #OccupyWallStreet. September 17th. Bring Tent. Earlier, Adbusters had emailed its subscribers saying, "America needs its own Tahrir," in reference to the Arab Spring revolution that eventually brought down Egypt's dictator, Hosni Mubarak, in February 2011. The co-founder of Adbusters, Kalle Lasn, remembers: "The left had been chattering on about revolutions for a long time, but we've basically been howling at the moon. And then, all of a sudden, a bunch of young people [in Egypt] using social media were able to mobilize not just 500 or 5,000 people, but 50,000 people. They inspired us with their courage and with their techniques. In our brainstorming sessions at Adbusters in February and March, we said, "Isn't some sort of regime change possible in the United States of America?" It wouldn't be a hard regime change like what happened with Mubarak, who was basically torturing people every day. We called it a 'soft regime change.'"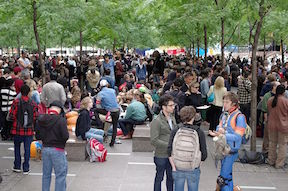 The original locations in Manhattan's Chase Bank Plaza and Bowling Green Park (with the iconic charging bull statue) were cordoned off after police learned of plans, and Zucotti Park, which was privately owned, was used as a last option. The "occupiers" who showed up on September 17 (of whom there were 2,000 instead of the called-for 20,000) came from all stripes: students, low-income workers, left-leaning intellectuals. Around one hundred protesters camped at Zucotti Park, which they renamed Liberty Park, and the numbers steadily increased over the weeks, largely on the strength of social media, with a makeshift kitchen, library and dispensary set up until the occupiers were forced out in November.

The movement was intentionally set up as a leaderless and organic exercise. In their own words, "Occupy Wall Street is a leaderless resistance movement with people of many colors, genders and political persuasions. The one thing we all have in common is that We Are The 99% that will no longer tolerate the greed and corruption of the 1%. We are using the revolutionary Arab Spring tactic to achieve our ends and encourage the use of nonviolence to maximize the safety of all participants." The Occupiers were eager to differentiate themselves from anti-globalization protests too. In a Rolling Stone interview, an occupier said: "The anti-globalization movement was the first step on the road. Back then, our model was to attack the system like a pack of wolves. There was an alpha male, a wolf who led the pack, and those who followed behind. Now the model has evolved. Today we are one big swarm of people." The Occupy Movement's rallying calls to raise awareness of growing income inequality and the increasing coziness between politics and corporations, especially the big banks, were heard around the world, inspiring similar protests.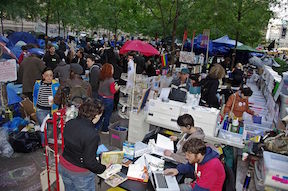 The soft goals and horizontal leadership structure of the Occupy Movement were eventually blamed for lackluster results, but the Occupiers defend their stance saying that, despite their short-lived "occupation," they created a significant dent in the national dialog. Supporters say that the movement has splintered off to create subgroups that continue the fight in the fields of healthcare and environmental justice among others.

Of special significance is the fact that the movement's signature "we are the 99%" message, coined by David Graeber, a middle-aged anthropologist and anarchist, entered the mainstream's consciousness. It remains to be seen whether it's more than just lip service, but politicians today have adopted the theme of income inequality at least into their election campaigns.
Adbuster's image which incorporates the 3 dimensional work of Arturo Di Modica titled "Charging Bull", courtesy of Wikipedia
The beginning of the protests at Zuccotti Park, courtesy of David Shinbone
The encampment at Zuccotti Park included a People's Library, courtesy of David Shinbone
Filed under People, Eras & Events
This "beyond the book article" relates to Your Heart Is a Muscle the Size of a Fist. It originally ran in February 2016 and has been updated for the October 2016 paperback edition. Go to magazine.
This review is available to non-members for a limited time. For full access become a member today.
Membership Advantages
Reviews
"Beyond the Book" articles
Free books to read and review (US only)
Find books by time period, setting & theme
Read-alike suggestions by book and author
Book club discussions
and much more!
Just $45 for 12 months or $15 for 3 months.