Childhood Food Novels
This article relates to Recipes for Love and Murder
When my sister, Meridith, was little my parents' frequent dinner table entreaty was that she stop playing with her food. But she was an unstoppable force (a picture of her as a baby shows her pointing a crooked finger at the camera as if to warn the world to beware because she had lots of things to say and do). Mom and Dad soon gave up on trying to push back and, maybe as a result, Meridith is the finest cook in our household.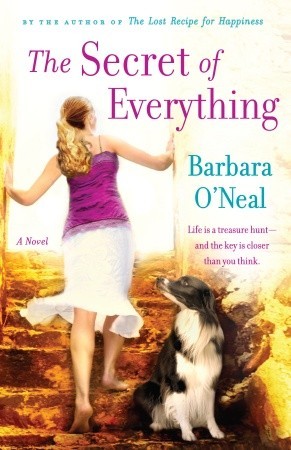 Perhaps because of Meridith, I have a great affinity for reading about food, and seeking out those passionate descriptions seem like the highest holy order. I have favorite food-centered novels, such as The Secret of Everything by Barbara O'Neal, with its 100 Breakfasts Café in fictional Las Ladronas, New Mexico; and Angelina's Bachelors by Brian O'Reilly, which makes the author's beloved Philadelphia come alive through food.



But it's the books I read when I was young that have stuck with me the longest. And I read their food passages repeatedly. In Charlotte's Web, there is the scene in the barn the night before the fair, when the old sheep tells Templeton the rat about the food he will find at the fair, in order to convince him to go:
In the horse barn you will find oats that the trotters and pacers have spilled. In the trampled grass of the infield you will find old discarded lunch boxes containing the foul remains of peanut butter sandwiches, hard-boiled eggs, cracker crumbs, bits of doughnuts, and particles of cheese. In the hard-packed dirt of the midway, after the glaring lights are out and the people have gone home to bed, you will find a veritable treasure of popcorn fragments, frozen custard dribblings, candied apples abandoned by tired children, sugar fluff crystals, salted almonds, popsicles, partially gnawed ice cream cones, and the wooden sticks of lollypops.
To this day, every time I read Charlotte's Web, I linger on that passage.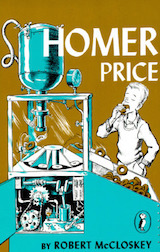 Then there is Homer Price and the donut-making machine, the latest labor-saving device in Uncle Ulysses' lunchroom. Homer starts it and it soon goes haywire, making donut after donut after donut, and it won't stop, even after Homer pushes the "Stop" button and then the "Start" button, worried that he might have put one of the two pieces in backwards. There's really no excerpt that can do the story justice. Only Robert McCloskey's illustration of the long lunchroom counter lined end to end with stacks of donuts, along with the stools, and bowls and plates on the shelves behind the counter, does that.

My favorite passage is the simplest. It shows up in A Week in the Life of an Airline Pilot by William Jaspersohn, a fantastic nonfiction children's author:
At noon on a cool day in late October, a man in the lobby of Vermont's Burlington International Airport eats a hot dog. He wears a blue-and-white striped shirt and brown necktie. His tweed jacket is the color of post-autumnal Vermont hills. At his feet is a businessman's satchel. The hot dog is consumed in five businesslike bites. Several times a month for the past eighteen years, the man, airline pilot Captain Ralph Larson, has been commuting from this airport to New York, from where he flies planes internationally for Pan American World Airways. Since the planes he flies do not usually land in countries with menus featuring American hot dogs, eating one in Burlington has become a ritual for him. He likes them with mustard and onions, chased down with cups of coffee or sometimes an orange soda.
The eating of the hot dog is my favorite because it's just a man and his hot dog. Not a rat agog at the promised land of after-hours food left at a county fair, not the excitement over county fair food to eat, not donuts run amuck, but just the small solo pleasure of a favorite quick meal. Oftentimes, those are the best moments in eating and among the best moments in reading.
This "beyond the book article" relates to Recipes for Love and Murder. It originally ran in January 2016 and has been updated for the September 2016 paperback edition.
This review is available to non-members for a limited time. For full access become a member today.
Membership Advantages
Reviews
"Beyond the Book" backstories
Free books to read and review (US only)
Find books by time period, setting & theme
Read-alike suggestions by book and author
Book club discussions
and much more!
Just $12 for 3 months or $39 for a year