Kurt Cobain
This article relates to Fortune Smiles
In "Nirvana," the opening story in Adam Johnson's Fortune Smiles, the main character's wife, Charlotte, is paralyzed from the shoulders down. She lies in bed and listens to the rock band Nirvana, as if the band's frontman, Kurt Cobain, was the only person who could understand her despair.
"It's not you," she says. "I just need my music. Just put [the headphones] on me." "Why do you need Nirvana? What is it to you?" She closes her eyes and shakes her head. "What is it with this Kurt Cobain?" I say. "What's your deal with him?" ...I turn on a computer and download one of these Nirvana albums. I play the whole thing, just sitting there in the dark. The guy, Kurt Cobain, sings about being stupid and dumb and unwanted. ...He has a song called "All Apologies," but he never actually apologizes. He doesn't even say what he did wrong.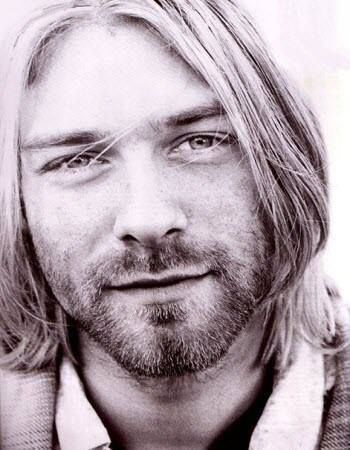 Most famous for being the lead singer, guitarist, and principal songwriter for the band Nirvana, Kurt Donald Cobain (February 20, 1967 - April 5, 1994) was called "the most important artist of the Nineties," by Rolling Stone, "even though he lived for less than half of the decade." His sound - characterized by dynamic, highly distorted guitars; gravelly, mumbled singing; and apathetic, angst-ridden lyrics - was greatly influenced by punk rock and revolutionized the Seattle grunge scene.

Cobain grew up in Aberdeen, Washington, a small blue-collar town. Even as a child, Cobain expressed interest in and an aptitude for music. He began playing the piano at age four, and enjoyed listening to popular rock bands such as the Beatles and the Ramones. His parents divorced when Cobain was nine, and the separation had a major effect on his personality. According to Michael Azerrod in his book, Come as You Are: The Story of Nirvana, Cobain went from being happy and sensitive to withdrawn and angry. In an interview with British rock journalist Jon Savage, Cobain said, "I remember feeling ashamed, for some reason. I was ashamed of my parents."

His family frustrations intensified after both his parents remarried, and Cobain became more and more alienated and restless. At age fourteen his uncle gave him his first guitar, and he began learning classic rock songs. According to Rolling Stone, he was bullied in high school for "choosing art and music over sports," and two weeks prior to graduation, he decided to drop out. Shortly thereafter, he met bass player Krist Novoselic, and in 1985 the two formed Nirvana. In 1990 they added band member David Grohl, and in 1991 they released the album Nevermind, a major breakthrough success that - in part, due to the popularity of the single "Smells Like Teen Spirit" - reached #1 on the Billboard charts and has currently sold over 30 million copies. By the time the band released the album In Utero in 1993, Cobain was considered the voice of Generation X - a title he was never comfortable with.

Thrown into the spotlight and scrutinized by media, Cobain became increasingly frustrated by the band's popularity and his own growing lack of enthusiasm. He felt that people were misunderstanding and misinterpreting his work, and that the real, emotional content behind his music was being commodified. In a letter to band member Krist Novoselic, he writes "As for now Nirvana is an embarrassment. My soul can't take it. I am going to start another band…"

Over time his heroin use, which, according to Rolling Stone, intensified once he began a romantic relationship with rocker Courtney Love in 1991, became a heroin addiction. Vanity Fair magazine reports that he bought around $400 worth of the drug each day - "so much that a dealer in Seattle once wouldn't sell him any more, afraid that he would overdose." Love and Cobain married in 1992 and welcomed their only child, Frances Bean almost six months later. However, after an interview with Vanity Fair's Lynn Hirschberg in which Love admitted to using heroin while pregnant, Love and Cobain temporarily lost custody of the child.

Friends and family became increasingly concerned for Cobain's well-being as his depression and drug use spiraled. Rolling Stone reported, "He underwent a series of detoxes and interventions, and by March 30, had checked into Exodus Recovery Center in Los Angeles. But he left the facility the next day and went missing for a week in early April." On April 8, 1994, Cobain was found dead in a greenhouse above the garage of his Seattle home with a shotgun wound to the head. (It was determined post-autopsy that he likely died three days earlier.)

He explains in a note:
"I haven't felt the excitement of listening to as well as creating music along with reading and writing for too many years now. I feel guilty beyond words about these things. ...The worst crime I can think of would be to rip people off by faking it and pretending as if I'm having 100% fun. Sometimes I feel as if I should have a punch-in time clock before I walk out on stage. I've tried everything within my power to appreciate it (and I do, God, believe me I do, but it's not enough)."
Fans around the world mourned the passing of such a young talent. In 2014, Cobain (along with bandmembers Novoselic and Grohl) was posthumously inducted into the Rock and Roll Hall of Fame.
This "beyond the book article" relates to Fortune Smiles. It originally ran in October 2015 and has been updated for the October 2016 paperback edition.
This review is available to non-members for a limited time. For full access become a member today.
Membership Advantages
Reviews
"Beyond the Book" backstories
Free books to read and review (US only)
Find books by time period, setting & theme
Read-alike suggestions by book and author
Book club discussions
and much more!
Just $10 for 3 months or $35 for a year