Smells Like a Teen
This article relates to Boo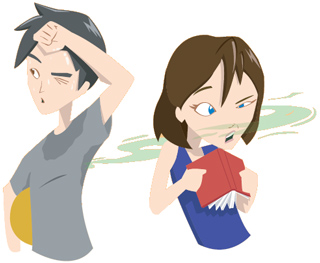 Nearly every character in Neil Smith's novel, Boo, is thirteen. Take a moment to remember back to when you were thirteen. First you might recall the sight of your thirteen-year-old self and your friends, maybe your old school. And then it hits you: that smell. It might not have been your body odor that so pungently fills the memory in your nose but rest assured, there was absolutely some unlucky and smelly soul who…well…stunk. In Boo, that character is Johnny Henzel. He is well liked, athletic, a little angry about his death, and constantly described as having an oniony body odor. Many kids are able to rise above a fetid blight like foul body odor, like Johnny, but some kids do not. The question remains, why does some people's sweat stink so much?

First, a little background on how we sweat. According to the Mayo Clinic, there are two types of sweat glands: eccrine and apocrine. The eccrine glands are the innocent party when it comes to body odor. Eccrine glands are found all over the body and when the body temperature rises, they release a water and sodium fluid directly onto the skin, which evaporates thus cooling the body. The offender is the apocrine gland and it is because of a few small differences. The apocrine glands are found mainly in the armpit and groin areas. They are triggered by more than just a rise in body temperature; stress, anxiety and a person's emotional state also set these glands to work. The apocrine fluid, which is milkier in nature, is released on to the surface of the skin via hair follicles.

But what makes it stink?

Bacteria on the skin's surface breaks down the protein and the fatty acids in the apocrine fluid. That break down equals smell. And because the apocrine glands release their liquid through the hair follicle onto the skin, it hits more bacteria. More bacteria equals more smell. In addition to that, says WedMD, smelly foods break down into smelly compounds, and as they are metabolized some of that smell is transferred to sweat, urine and saliva. The leading culprit seems to be sulfur of which varying levels are found in garlic, onions and cruciferous foods like broccoli, Brussels sprouts and cabbage. The American College of Sports Medicine adds that there are a few other contributing factors including: gender, genetics, age, fitness level and environmental conditions. Those factors, plus the two to four million sweat glands that people have on average, begin to explain why we sweat the way we do.

In Johnny Henzel's circumstance, age and environmental circumstances are the most obvious factors. At the moment when most of his hormones are kicking into gear, his young life is cut short in a perplexing manner that sends him into emotional anxiety for most of the story as he tries to figure out the missing details of his death. It's no wonder he's a bit smelly.
Cartoon of Body Odor, courtesy of Faze Magazine
Filed under Medicine, Science and Tech
This article relates to Boo. It first ran in the June 3, 2015 issue of BookBrowse Recommends.
This review is available to non-members for a limited time. For full access become a member today.
Membership Advantages
Reviews
"Beyond the Book" articles
Free books to read and review (US only)
Find books by time period, setting & theme
Read-alike suggestions by book and author
Book club discussions
and much more!
Just $45 for 12 months or $15 for 3 months.