A Medicine Walk
This article relates to Medicine Walk
Many cultures have a tradition of using a solitary walk to help individuals achieve their inner goals, whether it be deepening their spirituality, finding insights to problems, or helping determine a path in life. Some Native American tribes in particular, encourage adolescents to go on a "medicine walk" to obtain inner peace and establish a closer relationship with nature.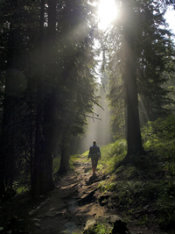 At its simplest, a medicine walk is open time and unplanned travel in a natural place – aimless wandering. Most who advocate this type of activity recommend that it take at least one full day, occur as far away from humanity as possible, and often endorse fasting to help improve personal clarity. It should be approached without having any set goal other than to observe the world, and should be done in silence, alone, and without any type of electronics present (not even a wristwatch); there should be no agenda or set route. It is an opportunity to let go of the concerns of daily life and focus on one's immediate surroundings – a time set aside when one's mind can transcend planning for the future or worrying about the past and just "be."

There are many reasons for undertaking a medicine walk. It can be an educational experience as one discovers more about nature through observation. Participants are encouraged to not only walk but also to stay still at times, watching a particular tree or stream or other natural feature that calls to them to develop a deeper understanding of the natural world (for example, what birds or fish are present, what insects, what plants; how do they interact and what can you learn from that?).

Some also consider the medicine walk highly therapeutic, particularly in this day and age when it is difficult to lay aside the cares of the world. Time spent in the appreciation of nature has a healing effect on the psyche, allowing the individual to better put problems in perspective. This realignment of the self to the natural world can also nurture the soul, making one feel closer to the divine and thereby developing a renewed sense of spirituality.

The most common reason for taking a medicine walk, though, tends to be a desire for insight into one's life, whether that be an answer to a specific question or a longing for direction. This can be more challenging to achieve, however, since only in letting go of conscious thought about these topics can deeper insight be obtained.

Regardless of the ultimate purpose for going on a medicine walk, it is important to process one's experiences upon return. It's generally recommended that insights be recorded in a journal. The School of Lost Borders, which sponsors medicine walks and vision quests for teenagers, suggests contemplating this list of questions to help analyze what one learned over the course of the journey:
Why did you go on this medicine walk? What was the general plot, narrative, or story of your medicine walk? What happened?
What natural objects, plants, animals, weather, and physical features caught your attention? What might they have been "saying" to you?
What were the darkest parts? What were the brightest? What parts of your experience did you try to hold on to, and what parts did you try to push away?
Treat your experience as if it were a dream. Reexamine the answers to questions 1-3 as if you were describing a dream. What new meanings emerge?
How were you guided? What challenges or trials were presented to you? What blessings were you offered? What lessons did you receive? What tasks were you given?
How does your walk reflect your relationship to nature and to your own nature? What parts of yourself were reflected to you? How did you respond to them? How did your feelings and reactions to nature change after your walk?
How does your medicine walk mirror how you are handling your current transition? What encouragement did you gain? What do you need to remember in this transition?
Picture of medicine walk from Reweavingtheworld.com

This "beyond the book article" relates to Medicine Walk. It originally ran in June 2015 and has been updated for the May 2016 paperback edition.
This review is available to non-members for a limited time. For full access become a member today.
Membership Advantages
Reviews
"Beyond the Book" backstories
Free books to read and review (US only)
Find books by time period, setting & theme
Read-alike suggestions by book and author
Book club discussions
and much more!
Just $12 for 3 months or $39 for a year