Bare-Knuckle Boxing
This article relates to The Fair Fight
Bare-knuckle fighting has probably existed ever since humanity learned to make a fist, and it has been practiced as a sport since at least the 3rd millennium BCE. The earliest records are found in Sumerian reliefs from that time period, and ancient Egyptian artwork from the 2nd millennium BCE depicts an audience watching barefisted contestants. The ancient Greeks believed that the gods on Mount Olympus boxed for sport, and consequently made it part of the Olympic Games in 688 BCE. Homer also makes reference to boxing in The Iliad - the earliest written version of which dates to roughly the same time period.

Boxing lost popularity as Rome declined and wasn't revived until the late 17th century in England. The first documented "boxing match" is thought to have taken place in 1681 in Britain when Christopher Monck, the 2nd Duke of Albemarle scheduled a bout between his butler and his butcher (the butcher won). Boxing at the time was a far different activity than the sport we know today, more resembling a street brawl than an organized pursuit with rules and guidelines; kicking, gouging, biting and hair-pulling were all permitted (although hitting below the belt was outlawed as unsportsmanlike in 1743). Women often fought in short skits and were sometimes topless as well.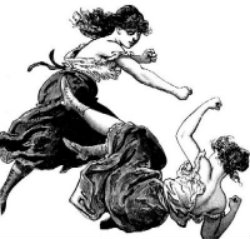 Although it's believed women were participants almost since the beginning of the sport's resurgence in England, the first advertisement featuring a female fighter didn't appear until 1722 when Elizabeth Wilkinson started publicizing her bouts. One of the most well-documented matches occurred later that year between her and the "Newgate Market basket-woman" Hannah Hyfield for a prize of 3 guineas (probably in the region of £600/$1000 taking into account inflation). One of Elizabeth's stipulations, which became her trademark rule, was that the fighters would hold a half crown coin in each of their fists, and the first to drop it lost the bout. The women were evenly matched but Elizabeth squeaked out a victory. She subsequently married James Stokes (who had beaten her in the ring on at least on occasion) in 1728. Stokes owned his own amphitheater in north London, and Elizabeth fought at that locale from then on.

Ads such as this one were often placed in area newspapers:
At Mr. STOKES's Amphitheatre, in Islington Road, near Sadler's Wells, on Monday next, being the 3d of October, will be perform'd a trial of skill by the following Championesses. Whereas I Mary Welch, from the Kingdom of Ireland, being taught, and knowing the noble science of defence, and thought to be the only female of this kind in Europe, understanding there is one in this Kingdom, who has exercised on the publick stage several times, which is Mrs. Stokes, who is stiled the famous Championess of England; I do hereby invite her to meet me, and exercise the usual weapons practis'd on the stage, at her own amphitheatre, doubting not, but to let her and the worthy spectators see, that my judgment and courage is beyond hers. I Elizabeth Stokes, of the famous City of London, being well known by the name of the Invincible City Championess for my abilities and judgment in the abovesaid science; having never engaged with any of my own sex but I always came off with victory and applause, shall make no apology for accepting the challenge of this Irish Heroine, not doubting but to maintain the reputation I have hitherto establish'd, and shew my country, that the contest of it's honour, is not ill entrusted in the present battle with their Championess, Elizabeth Stokes.

Note, The doors will be open'd at two, and the Championesses mount at four. N.B. They fight in close jackets, short petticoats, coming just below the knee, Holland drawers, white stockings, and pumps.
The first reported American boxing match between two women was recorded in New York in 1876, when Nell Saunders and Rose Harland met at the New York Hills Theater (the prize was a silver butter dish, although there's no record of who won it).

In 1866 a new set of rules were published. Supported by the Marquess of Queensberry, they bear his name to this day. The rules mandated boxing gloves and prohibited actions like gouging and kicking; they also barred women from the ring, and this stipulation held until Sweden offered the first sanctioned women's boxing events in 1988. The British Amateur Boxing Association jumped on the bandwagon in 1997 with other organizations quickly following. Women's boxing was part of the Olympics for the first time at the 2012 London games, with contestants competing in three weight categories: flyweight, lightweight and middleweight.


Picture of Elizabeth Stokes, Lady Bare-Knuckles from GeorgianLondon.com

Filed under Cultural Curiosities
This "beyond the book article" relates to The Fair Fight. It originally ran in May 2015 and has been updated for the April 2016 paperback edition. Go to magazine.
This review is available to non-members for a limited time. For full access become a member today.
Membership Advantages
Reviews
"Beyond the Book" articles
Free books to read and review (US only)
Find books by time period, setting & theme
Read-alike suggestions by book and author
Book club discussions
and much more!
Just $45 for 12 months or $15 for 3 months.