Aquariums
This article relates to Aquarium
A couple of thousand years B.C., the Chinese were building fish pens in lakes (for food and possibly entertainment), and evidence of Roman fish tanks in the sea still exist (such as the fish tank that can still be seen a little north of Rome). But building containers to showcase the fish away from their natural surroundings had many challenges that would remain largely insurmountable until the 19th century.



Painting by Liu Cai (1080-1120). Click for bigger image
The Roman Empire had aquariums of sorts - small marble tanks, stocked with such fish as the poisonous-spined sea barbel. Then, during the last century B.C. and first century A.D., glass manufacturing in Europe went through a number of major step changes, including the discovery of techniques enabling the production of clear and flat glass. Thus, around 50 AD, we see Romans able to replace one side of their marble aquariums with a small pane of glass. Over the following centuries it is safe to assume that ornamental fish were kept in small tanks here and there, but it wouldn't be until the 1800s that the ability to manufacture large sheets of glass came together with the scientific understanding of the relationship between animals, plants, and oxygen enabling aquariums as we know them today to be envisaged.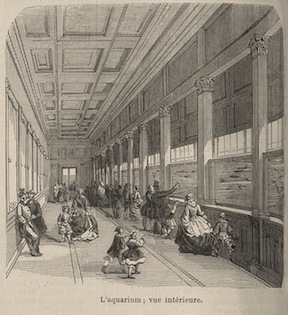 Public aquariums became popular in the 1800s in Germany, France, and England; but water chemistry, tank size, filtration and aeration of water were problematic, and the materials used to construct the aquariums, such as glass and slate with a putty-held metal frame, were not sufficiently waterproof to contain large volumes of water without leaking (putty is usually a combination of ground chalk and linseed oil.) In 1853, the Public Aquaria at the London Zoological Gardens captured the imagination of people curious about the hobby of fish keeping, making it the first successful public aquarium in Europe. The first display aquarium in the United States was created in 1856, and was located at the American Museum in New York City, operated privately.

In the 20th century, aviation helped accelerate interest in aquariums, because planes could transport fish from their original source to those who wanted them. After World War II, when aviation entered the mainstream, aquarium growth sped up.

The centrifugal pump was developed in the 1960s, which uses an air-cooled motor to take in water at the bottom of the tank and let it out at the top, thus aerating the water. Fish food has gone through its own evolution too. For the early aquariums, food usually consisted of dried ants, oatmeal, or whatever an aquarium keeper found at the bottom of a pond. This lasted until the 1950s when German Dr. Ulrich Baensch developed the now familiar flake food and formed the Tetra Company.

The 1960s saw the invention of silicon-based adhesive, which offers far stronger waterproofing than putty; and the invention of the acrylic tank which is more crack resistant, lightweight, and lends itself to more shapes than just the standard rectangular tank. Acrylic is also easier to cut into than glass and insulates better.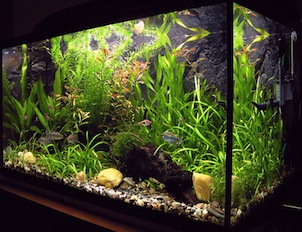 Today, the hobby of keeping aquariums is the third-largest part of the pet industry in the United States. In a first-grade classroom at this writer's elementary school, there is a large fish tank with a few colorful fish. It is nothing so elaborate as to distract the students, but just enough to make the aquarium a pleasant part of the atmosphere of the classroom. On the flip side, there's the series Tanked on Animal Planet, about two brothers-in-law who run Acrylic Tank Manufacturing, based in Las Vegas. Looking at all the intricate, sometimes outrageously designed aquariums the duo are contracted to create, it's clear that aquariums won't go out of style anytime soon. So long as there are fish, people willing to spend money on this hobby, and public aquariums at which to gawk at all kinds of fish, aquariums will continue to capture our imagination.
Carp and other types of fish in Fish Swimming Amid Falling Flowers, a Song dynasty painting attributed to Liu Cai (c.1080–1120). Courtesy of Museum Geek
The Jardin Zoologique at the Bois de Boulogne included an aquarium that housed both fresh and saltwater animals, 1860 in Paris. Courtesy of Paris 16
A freshwater aquarium with plants and tropical fish, courtesy of Shizhao
Filed under Cultural Curiosities
This "beyond the book article" relates to Aquarium. It originally ran in April 2015 and has been updated for the January 2016 paperback edition. Go to magazine.
This review is available to non-members for a limited time. For full access become a member today.
Membership Advantages
Reviews
"Beyond the Book" articles
Free books to read and review (US only)
Find books by time period, setting & theme
Read-alike suggestions by book and author
Book club discussions
and much more!
Just $45 for 12 months or $15 for 3 months.