The Goddess Kali
This article relates to The Strangler Vine
In The Strangler Vine, a nomadic tribe of Indian bandits, known to history as Thugs, first charm and then strangle fellow travelers in the name of the Hindu goddess Kali. The appropriation of Kali by the Thuggee to justify their murders is the subject of some ongoing historical debate. While Kali is a Hindu goddess, it has been argued that a large number of Thugs were in fact Muslim. Doubts have further been raised about the existence of the Thuggee cult at all, as its existence was only recorded by British imperialists who may have had a vested interest in creating a feared band of murderers. A more recent and well-reviewed consideration of the evidence can be found in Thug: The True Story of India's Murderous Cult by Mike Dash.

Kali, which translates as "the black one" is one of several incarnations of the Mother Goddess, known as Shakti or Durga, the source of all the energy and creativity in the universe. Shakti is a consort of Shiva, one of the three principal Hindu Gods, the other two being Vishnu and Brahma. Some incarnations of Shakti – for example Sati and Parvati – are loving and caring goddesses, but others, including Kali, are less so.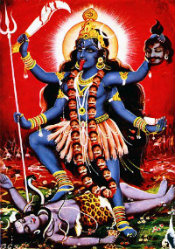 Depictions of Kali show a dark blue/black-skinned woman with blood-red eyes and multiple arms. She is often naked, apart from a girdle made of dismembered arms and a garland or necklace made of skulls. She has a third eye in the center of her forehead and her tongue sticks out. In one hand she holds high a sword, in another she holds a dismembered head.

One traditional story about Kali begins with a monster named Raktabija destroying the world. It was said that every time he was wounded a thousand demons sprang from his blood. The other gods asked Kali for help and she began by killing the demons and drinking their blood so they could not multiply. When only Raktabija was left she ate him. Delirious in victory, it is said that Kali began to dance, and as she did so in a trance, the earth began to shake. Fearing she would destroy the world, Shiva tried to calm her but she was in a frenzy. In desperation he threw himself on the ground in front of her. At first she continued dancing, even standing on Shiva's body, but when she realized she was standing on her own husband, unthinkable in Hinduism, she stopped and the world was saved.

Although fearful in appearance, Kali is associated with time and with the natural cycles of life and death. For some she represents the darkness of the universe before life even began. She is concerned with death certainly, but can also be seen as forgiving. Some of the macabre parts of her appearance have symbolic value: for example the fifty human-head garland she wears stands for the fifty phonemes (sounds) of the Sanskrit alphabet and is believed to signify infinite knowledge. More important, Kali is an avenger, a strong face of womanhood and although she may be cruel, her violence is just.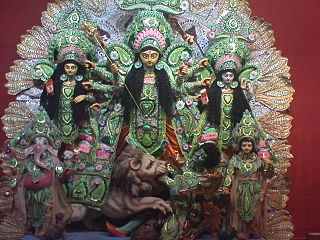 The Goddess Kali is celebrated in a glorious nine-day festival, Durga Puja, especially popular in northeast India, where it is a massive affair akin to Christmas in the West. Specially erected structures showcase the Goddess and her children, the goddesses Lakshmi (of wealth) and Saraswati (of knowledge) and Gods Kartikeya and Ganesha (the elephant-headed remover of obstacles). The signature sounds of the dhak, a special drum, are one of the many highlights of this Hindu festival.

To listen to the sounds of the dhak and the shankh (conch shell) during Durga Puja, and for a quick tour of many installations in northeast India, click on the video below:


Picture of Goddess Kali from Festivals of India
Picture of Durga Puja installation by Rakesh Mallick

Filed under Places, Cultures & Identities
This "beyond the book article" relates to The Strangler Vine. It originally ran in April 2015 and has been updated for the February 2016 paperback edition. Go to magazine.
This review is available to non-members for a limited time. For full access become a member today.
Membership Advantages
Reviews
"Beyond the Book" articles
Free books to read and review (US only)
Find books by time period, setting & theme
Read-alike suggestions by book and author
Book club discussions
and much more!
Just $45 for 12 months or $15 for 3 months.