The Race To the Theory of Natural Selection
This article relates to Sapiens
In Sapiens: A Brief History of Humankind, Yuval Noah Harahi identifies three specific "revolutions" which were central to the development of the human species. The first was the Cognitive Revolution; taking place between 70,000 and 30,000 years ago, it was responsible for the development and use of language. The second was the Agricultural Revolution which saw homo sapiens abandoning, approximately 12,000 years ago, traditional foraging in favor of farming and permanent settlements. Finally, there is the Scientific Revolution, a much more recent and ongoing phenomenon occurring within the last 500 years. The driving force behind this Scientific Revolution was what Harahi refers to as "the discovery of ignorance" - having realized and acknowledged the limits of human understanding, intrepid sapiens embarked on a quest for enlightenment.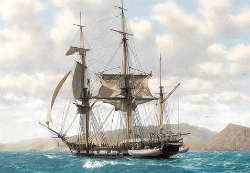 One such curious and enterprising human being was Charles Darwin. Aged twenty-two and a recent graduate from Cambridge, Darwin joined the crew of the Royal Navy ship, HMS Beagle, on their 1831 voyage to South America, the Galapagos Islands, and the Falklands islands. Darwin's task, that of collecting geological specimens, was secondary to the expedition's primary cartological mission to chart the as-yet-unmapped coasts of this part of the world. The almost incidental nature of Darwin's task on board the Beagle is one of the great ironies of history - the evidence gathered by Darwin on that mission would ultimately culminate in his theory of evolution by natural selection, which would prove to be one of the most ground-breaking discoveries in all of human history. (Read Darwin's Ghosts for a history of the theory.)

That is not to say, however, that Darwin's theory presented itself fully formed overnight. There was no sudden eureka moment; much like the process of evolution itself, the development of the hypothesis was gradual and incremental. Neither, as is commonly thought, was Darwin a lone ranger in thinking along evolutionary lines. While the idea was undoubtedly his, its maturation owed much to the knowledge and expertise of other prominent natural scientists of the day, including the renowned geologist Sir Charles Lyell and botanist Joseph Dalton Hooker, with whom Darwin regularly corresponded.

But even when Darwin's theory emerged from its long gestation period, he still proved reticent to publish his findings. So incendiary was his discovery, particularly in its contradiction of religious creationist dogma, Darwin (who himself almost became an Anglican minister) procrastinated over publication for 15 years, fearing as he did the consequences of unleashing his discoveries on an unsuspecting and unprepared public. Such was the extent of his reserve, Lyell and others feared someone else would come up with a similar theory and jeopardize Darwin's claim to the discoveries - fears that were, as it turned out, far from unfounded.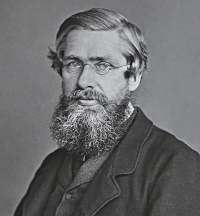 Enter Alfred Russel Wallace. Partly inspired by the book Journal and Remarks, Darwin's diaries of the Beagle voyage published in 1839, Wallace spent four years in the Amazonian rain forests of Brazil from 1848 to 1852 collecting empirical geological data. He would embark on a second trip, this time an eight-year expedition to the Malay Archipelago (present-day Malaysia and Indonesia), beginning in 1854. Wallace and Darwin met briefly between these trips and corresponded on the subject of Wallace's many observations in the field. The most important letter in this exchange, and the most shattering for Darwin, was received by him on 18 June 1858. The letter contained an essay by Wallace outlining his own theory of evolution. As Darwin later wrote to Lyell, "your words have come true with a vengeance that I sh[ou]d be forestalled… I never saw a more striking coincidence. If Wallace had my [manuscript] sketch written out in 1842 he could not have made a better short abstract!"

Darwin now faced a dilemma: if he came forward with his theory now, he could possibly face allegations of plagiarism of Wallace's work. In the end, it was decided, on the advice of Lyell and other friends, that he would publish his theory jointly with Wallace. On 1 July 1858, essays by both men were presented to the Linnean Society of London, along with documentary evidence that Darwin had been working on the theory for years. Sixteen months later, in November 1859, On The Origin of Species was finally published.

After homo sapiens' 150,000-year history on Earth, it is extraordinary to think that two men should, simultaneously and independently, discover the explosive evolutionary truth of our species. This last-minute race to the theory of natural selection is perhaps the one of the greatest testaments to the advancements made during the Scientific Revolution, and to the potential we, as a species, continue to possess.


Picture of HMS Beagle from HMS Beagle Project
Picture of Alfred Russel Wallace from Wallace Online

This "beyond the book article" relates to Sapiens. It originally ran in March 2015 and has been updated for the May 2018 paperback edition. Go to magazine.
This review is available to non-members for a limited time. For full access become a member today.
Membership Advantages
Reviews
"Beyond the Book" articles
Free books to read and review (US only)
Find books by time period, setting & theme
Read-alike suggestions by book and author
Book club discussions
and much more!
Just $39 for a year or $12 for 3 months