Oh Restaurant, From Whence Thou?
This article relates to An Appetite for Violets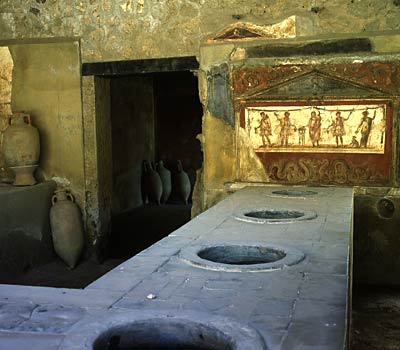 While buying ready prepared food outside the home has been an intrinsic part of urban culture in Europe from the earliest of days (as can be seen by the many thermopoliums in Pompeii), in the modern era, in general the upper classes, especially the women, would not have chosen to eat a meal outside of a private home - except in the direst circumstances, such as extended travel. They looked upon food that was prepared elsewhere with distrust, even disdain. With no overarching standards or regulations, they felt there was no way of knowing whether such food was fresh, or that kitchens were clean, or even that the cook knew what s/he was doing.

Taverns, inns and boarding houses often served food, but this was secondary to their main purpose of offering alcohol or housing. Even so, what food they served was whatever the kitchen had on hand on a particular day, whether fresh or kitchen scraps. There were no choices. If mutton stew was the meal du jour, that was it, like it or not. If it had been three days' meal du jour, well… Additionally, meals were taken at a communal table with whatever and all riffraff that frequented the establishment.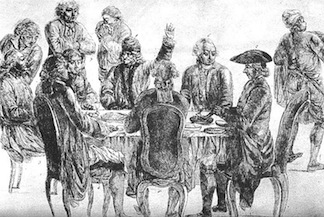 Then in the second half of the 18th Century, a bright French entrepreneur noticed that most members of the privileged class suffered from a disorder then known as weak-chestedness – what we call either indigestion or acid reflux - from dining on overly rich, heavy food. So, according to Rebecca Sprang in her book The Invention of the Restaurant: Paris and Modern Gastronomy, in 1766, Mathurin Roze de Chantoiseau opened an establishment called Maison de Santé, or house of health on the rue Saint Honoré. At the time, the word "restaurant" meant, literally, restorative, which was a fine meat broth served in delicate china cups. The Maison's clientele dined at individual tables in a lavishly decorated mirrored dining room. They paid a fixed price and dined at their leisure, not necessarily at the same time as every other patron.

Before Ms. Sprang published her book, the general consensus held that a man known as Boulanger set himself against Paris's powerful caterers' guilds when he opened an establishment near the Louvre in 1765 that offered a choice of dishes. The caterer's guild sued - and lost. Over the next 20 years leading up to the French Revolution, many similar shops opened all over Paris. When Marie Antoinette and Louis XVI went to the guillotine, the old ways of French society went with them. The guilds were swept away and many chefs employed in aristocratic, even royal, households found themselves unemployed. Many of these displaced workers opened their own restaurants in Paris, bringing with them a new way of dining.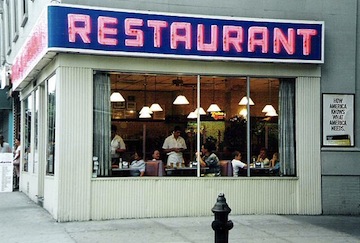 Apparently there remains some level of controversy over whether Boulanger or de Chantoiseau opened the first restaurant. So both accounts are mentioned here so as not to take sides. Regardless, restaurant service soon expanded to include a menu or bill of fare from which patrons could choose from a variety of dishes; appetizers to desserts.

There is no stopping an idea whose time has come, and restaurants quickly began sprouting up all over the Western world. In the United States, the concept of dining establishment emerged at approximately the same time as it did in France and Europe, although the term "restaurant" was not commonly used until the 19th Century. Words like "restorator" or "eating house" were more common.

The restaurant industry got a huge boost with the dawn of the Industrial Age when trains and eventually automobiles and airplanes enabled travel for both pleasure and business.
Café Procope, an early restaurant, and said to be the oldest in continuous operation, courtesy of Mu
Tom's Restaurant, courtesy of Maksim
Filed under Cultural Curiosities
This article relates to An Appetite for Violets. It first ran in the February 18, 2015 issue of BookBrowse Recommends.
This review is available to non-members for a limited time. For full access become a member today.
Membership Advantages
Reviews
"Beyond the Book" articles
Free books to read and review (US only)
Find books by time period, setting & theme
Read-alike suggestions by book and author
Book club discussions
and much more!
Just $45 for 12 months or $15 for 3 months.