The Extraordinary Brain of Henry Molaison
This article relates to How We Learn
One of the many stories from the history of research into memory and learning related by Benjamin Carey in How We Learn is the story of a man known to science and the world until his death in 2008 only by his initials, H.M.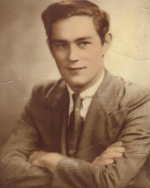 When Henry Molaison of Hartford Connecticut, born in 1926, was 27 years old, he agreed to undergo brain surgery to alleviate his epilepsy. Since a childhood cycling accident, Henry had suffered from debilitating seizures. The experimental operation, carried out in 1953, did significantly help with Henry's epilepsy, but this partial lobotomy left him with severe amnesia. Quite unintentionally, the operation proved to the scientific world that the hippocampus and medial temporal lobes are where the brain converts short-term memory into long-term memory.

For Henry Molaison, this meant that although he could remember facts and events from his childhood, for the rest of his life he could not make new memories. He would meet people but forget their faces and names within minutes. In 2007, NPR broadcast an audio of Henry having the following conversation with a psychologist:

Dr. Milner: Do you know what you did yesterday?
H.M.: No, I don't.
Dr. Milner: How about this morning?
H.M.: I don't even remember that.
Dr. Milner: Could you tell me what you had for lunch today?
H.M.: I don't know, to tell you the truth.

Henry also lost much of his sense of smell, any sexual drive and lived for the next five decades, until he died in 2008, aware that he had been the subject of an operation which had gone wrong but unable to recall it happening. After the surgery, Henry lived with his parents and then in later life in a nursing home and although he could not remember it, he was told many times that his life and his openness to assist brain researchers was hugely important. Professor Suzanne Corkin who worked with Henry for many years and has written about him in Permanent Present Tense, recalls that, "from time to time I would tell him how important and well known he was, and he would smile sheepishly, as if the praise was already slipping out of his consciousness."

Henry Molaison's personal tragedy and loss, however, has been science's gain. Before his operation many scientists believed that the brain stored memories in multiple locations. Study of Henry proved that certain kinds of memory – the ability to recall names, faces, and new experiences - did depend very heavily on the hippocampus – which Henry no longer had. But he was able to learn other things. In the 1960s Henry participated in a series of trials where he was asked to trace the lines of a five-pointed star while looking in a mirror. Although every time Henry did the activity he could not recall ever having done it before, his performance improved over time. This demonstrated that motor memory resides in another part of the brain.

Reading any article about Henry Moliason, it is impossible not to imagine how immensely difficult his life must have been. Yet it is clear that he was a gentle, personable and generous person. In another audio excerpt published by NPR, Professor Corkin asked him if he was happy. Here's his reply: "Yes. Well, the way I figure it is, what they find out about me helps them to help other people."


Picture of Henry Moliason from The Clinical Psychologist's Bookshelf

Filed under Medicine, Science and Tech
This "beyond the book article" relates to How We Learn. It originally ran in November 2014 and has been updated for the June 2015 paperback edition. Go to magazine.
This review is available to non-members for a limited time. For full access become a member today.
Membership Advantages
Reviews
"Beyond the Book" articles
Free books to read and review (US only)
Find books by time period, setting & theme
Read-alike suggestions by book and author
Book club discussions
and much more!
Just $45 for 12 months or $15 for 3 months.