Muslim Women's Dress Styles
This article relates to The Underground Girls of Kabul
The Underground Girls of Kabul explores the custom of bacha posh where girls are dressed as boys and pass off as sons in families. While, by definition, the bacha posh wear male clothing, I thought this would be a good opportunity to explore the various items of Muslim women's attire as I suspect that, like myself, many readers will be unclear about the differences between the various garments, such as the hijab, chador, abaya and burka:


The practice of wearing a veil or head covering predates Islam; statues from approximately 2500 BCE depict veiled women, and the first written reference found is in an Assyrian legal text composed in the 13th century BCE. It's thought that the custom was common in Persia and Byzantine societies, meant to differentiate between respectable women and those who were of lower class (in some places it was illegal for slave women or prostitutes to wear a veil). As the Muslims conquered the Middle East they assimilated the practice, adopted first among the highest class of women and eventually trickling down to commoners.

Followers of Islam cite passages in the Qur'an that encourage modest dress among its adherents:
The believing men are enjoined to lower their gaze and conceal their genitals and the believing women are enjoined to lower their gaze and conceal their genitals, draw their headdress to cover their cleavage, and not to display their beauty, except that which has to be revealed, except to their husbands, their fathers, their husbands' fathers, their sons, their husbands' sons, their brothers or their brothers' sons, or their sisters' sons, or their women, or their slaves, or eunuchs or children under age; and they should not strike their feet to draw attention to their hidden beauty. O believers, turn to God, that you may know bliss. (Qur'an 24:30-31)

O Prophet! Enjoin your wives, your daughters, and the wives of true believers that they should cast their outer garments over their persons (when abroad): That is most convenient, that they may be distinguished and not be harassed. (Qur'an 33:58–59)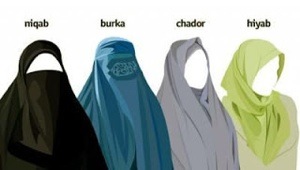 The purpose of wearing concealing clothing is said to create a distinction between one's public and private life, protecting the latter from outsiders and guarding honor. There is a wide variety of opinion with regard to women's apparel and what constitutes appropriate dress, however. This has led to different types of clothing designed to protect a woman's modesty and declare her dedication to Islam:


When referring to a Muslim woman's clothing, the word hijab is often used. This generally refers to a headscarf fastened under the chin, and is the most common form of Islamic dress particularly in western countries. The hijab comes in countless styles and colors and can be worn in numerous ways. The two most popular types are the al-amira, a two-piece veil consisting of a close-fitting cap that covers the hair, combined with a tube-like scarf over the head and neck; and the shayla, a long, rectangular scarf wrapped around the head and across the neck and pinned or tucked in at the shoulder.
A niquab is a long face veil that completely covers the head but leaves the area round the eyes clear. It hangs down in the front and back to about mid-torso.
Frequently seen in the central region of Saudi Arabia, an abaya is a loose head to foot garment that leaves the face and hands unencumbered. Traditionally it is black and can be worn with a niquab.
The chador is a traditional Iranian covering similar to the abaya, covering the head and body. It is more cape-like, however, held together in the front with one's hands or teeth. Related to the chador is the khimar, which is shorter, only covering the hair, neck and shoulders and falling to just below the waist.
The burqa is the most extreme form of veiling, completely covering the woman in a loose head-to-toe garment. A mesh screen conceals the eyes and gloves are worn to hide the hands.
The practice of wearing hijab had begun to wane but experienced a resurgence starting in the mid-20th century as a reaction to the increasing westernization of the Middle East. Young women began adopting the veil more frequently as a protest against western values and as a recommitment to the Islamic faith. Over time it became the norm (and mandated in some places) as more religiously conservative governments came into power.

Many women in non-Islamic countries today choose to wear hijab, saying that it's liberating and provides an increased sense of identity.


Two popular ways to wear the hijab: Al-Amira and the Shayla from Beliefnet
Pictures of the different hijab styles from Enamorate De Dubai

Filed under Places, Cultures & Identities
This "beyond the book article" relates to The Underground Girls of Kabul. It originally ran in October 2014 and has been updated for the July 2015 paperback edition. Go to magazine.
This review is available to non-members for a limited time. For full access become a member today.
Membership Advantages
Reviews
"Beyond the Book" articles
Free books to read and review (US only)
Find books by time period, setting & theme
Read-alike suggestions by book and author
Book club discussions
and much more!
Just $45 for 12 months or $15 for 3 months.