Boarding Schools in the UK
This article relates to The Secret Place
The Secret Place is set on the grounds of an Irish boarding school, an educational institution where children live on campus while they attend classes.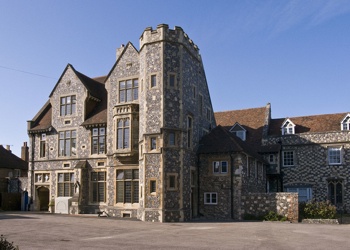 Boarding schools have a rich history in Ireland and neighboring UK (The Republic of Ireland was part of the UK through the 19th century and up to 1922). It is believed The King's School in Canterbury was the world's first true boarding institution, where a monastery school was established in 597 CE. Winchester College founded by Bishop William of Wykeham in 1382 CE and Oswestry School founded by David Holbache in 1407 CE are the oldest boarding schools in continuous operation.

Approximately 90,000 children attend a boarding school each year in the UK, which currently has about 500 institutions available, most of which are considered independent (aka private) schools. In addition, there are 35 state-funded boarding schools, which charge for room and board but not for tuition. Independent boarding schools accept children of any nationality, while the state-funded schools limit entrance to UK and EU children (with particular attention to children of military and diplomatic families who are posted overseas).

Some of the oldest private boarding schools are also referred to as "public schools" — a term that today carries connotations of elitism but is a legacy from the time when they were founded, initially as charity schools to educate poor scholars. In medieval times education was generally restricted to boys entering the church or a craft guild, or to those whose families could afford, and saw the value in a private tutor. The public schools such as Eton and Harrow, founded in the 15th century onwards, were so called because they did not restrict entry on the basis of religion or occupation.

Most boarding schools are co-educational, with boys and girls attending classes together but generally rooming in different buildings. In addition to classrooms and dormitories, boarding school campuses have laboratories, libraries, theaters, swimming pools, courts, pitches and tracks, among other facilities.

Independent schools, whether boarding or not, tend to split into two age ranges:
Primary education for children age seven up to 13
Secondary education for those aged 13 up to 18
Most boarding schools offer boarding and day-student options with the flexibility to change from one to another. For example, a child attending a prep school (private schools that take pupils from about aged 7 to 13) might start as a day student when young but move to boarding in his teens or stay a day student throughout, but with the option to board on occasion (for example if the parents are away for the night). Other students might board from an early age, either out of choice or because their parents live too far away. Most boarding schools split the academic school day so that the children attend classes in the morning, break for sports in the afternoon, and then have additional classes in the late afternoon, followed by supper and homework; there will also be classes most Saturday mornings with sports in the afternoon. Thus day students, and parents who can afford it, often conclude that they would be better off if the child boards rather than spending time driving to and from home just to sleep.

About 7% of children in the UK are educated privately at any given time, some in boarding schools, but a much higher percentage will have attended a private school at some time in their lives. Typical entry and exit points are at 11, 13 and 16. For example, parents might find themselves happy with the local state-run elementary school through the early years but want their child to attend an independent school at secondary level so may send them to a "prep school" at 11 to prepare them for the entrance exams. At 13 those who had previously been day students at one school may choose to become boarding students at another; and at 16 some students choose to change schools — for example, the student who attended an all-girls school might wish to move to a co-ed school either within the private system or out of it.

Younger children generally share a room with up to five other students, but as they grow older the number of roommates they have decreases, so that by sixth form they generally have a room to themselves with a central shared suite. A houseparent – generally one of the senior teaching staff - is on site at all times to supervise, often assisted in his or her duties by a housekeeper (aka "matron") and a house tutor. One houseparent is typically responsible for about 50 children. A few generations back there would have been little communication between parents and boarding students for months at a time, but today contact is very much encouraged with parents attending events and students going home, or to the homes of friends, frequently.

Boarding schools are inspected every three years by the Office for Standards in Education (Ofsted), which has established standards for welfare, health and policies. Inspectors talk to children as the primary consumer of the service. Schools are also governed by the National Boarding Standards, which sets rigid requirements on aspects of the facilities such as the minimum floor area of a dorm room and the minimum distance between two beds.

There are many reasons that parents might opt to send their children to a boarding school. The opportunity for companionship and to build lifelong friendships is often cited as a major goal. The schools also frequently attract international students, and so children are exposed to many different types of people and culture, further broadening their experience. Clubs and activities offered after classes provide opportunities beyond the academic day, and the fact that there is no commute allows more time to be spent enjoying sports and clubs or to participate in theater or music groups.

The UK boarding school system is not without its critics. It is blamed for endorsing and perpetuating an elitist class system — a claim that boarding schools counter by pointing to the increasing percentage of low-income students attending on generous, sometimes full, scholarships. Some critics also feel that the close, uninterrupted contact with other students leads to a hyper-competitive atmosphere. Again, boarding schools would point out that different schools cater to different academic levels, while some look for very high achieving students, most encourage a wide range of ability levels; in addition, access to school facilities outside of normal school hours allows students to develop their own areas of strength, perhaps more so than would be possible in a day school.


Picture of King's School in Canterbury, by Oosoom
Filed under Society and Politics
This "beyond the book article" relates to The Secret Place. It originally ran in October 2014 and has been updated for the August 2015 paperback edition. Go to magazine.
This review is available to non-members for a limited time. For full access become a member today.
Membership Advantages
Reviews
"Beyond the Book" articles
Free books to read and review (US only)
Find books by time period, setting & theme
Read-alike suggestions by book and author
Book club discussions
and much more!
Just $45 for 12 months or $15 for 3 months.