Beyond the Book:
Michelangelo and Six of His Greatest Works
During his long life Michelangelo created numerous great works of art. Six are particularly renowned and are located either in Rome or Florence. In his book Michelangelo: A Life in Six Masterpieces, Miles J. Unger examines the artist through these monumental works. The following offers a condensed history and description of each.

Pietà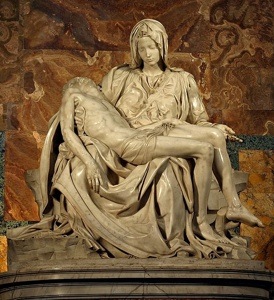 In 1496, Michelangelo was in his early twenties and had moved from his native city of Florence to Rome, "burning with ambition," according to Unger's book. After clashing with the Cardinal di San Giorgio over a commissioned work, he caught the notice of the French Cardinal of St. Denis, who was seeking a sculptor to carve his tomb in the shrine of Santa Petronilla, an ancient mausoleum attached to the Basilica of St. Peter. The cardinal was willing to take a chance on the relatively unknown Michelangelo, and he won the commission. The contract called for a Pietà to be created out of marble, "that is a Virgin Mary clothed with the dead Christ in her arms, as large as a true man." Michelangelo set out for the quarries of Carrara to personally choose "the flawless block from which his figures would emerge." Unger explains this hands-on approach was rare. Most sculptors purchased blocks from dealers or issued instructions to scarpellini on site who did the dangerous work of cutting the stone from the mountain.

The cardinal died in August 1499 and did not live to see the sculpture, which, Unger notes, likely took longer to create than the contracted one year, due to its complexity. The Pietà was immediately hailed as a masterpiece. It is the only work Michelangelo signed, a bold and controversial move, particularly because the signature is chiseled on the strap that crosses Mary's breast. This "cheeky bit of graffiti," Unger contends, was, among other possible reasons, "an assertion by a young man who knew he'd accomplished something remarkable."

David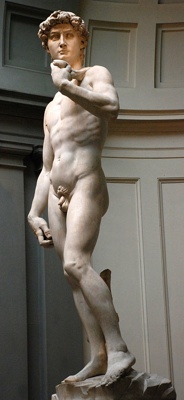 For more than 30 years the massive block of Carrara marble had lain neglected near the Cathedral of Florence. An obscure artist had abandoned the project which, on close inspection, resembled an ill-formed man.

In 1501, overseers of the Cathedral took a renewed interest in the languishing block, in large part because Florence was suffering from a weak and unpopular government. The city's borders also were being threatened by Cesare Borgia's army. Unger explains that "adorning the great religious and civic monuments of the city with precious artworks was Florence's preferred method of meeting a crisis." Such works were intended to project confidence and quell anxiety.

Michelangelo was still in Rome when he heard rumors about the commission—and the possibility that his rival, Leonardo da Vinci, could be awarded the project. After almost five years away, Michelangelo returned home. Bolstered by the fame of his phenomenal Pietà, he won the honor of carving the monumental column.

Originally, the David, who served as "a potent symbol of Florence's will to endure"—was placed in front of the Palazzo della Signoria, the city's civic heart. Modern viewers can view a full-scale copy in the square. After centuries of vandalism and exposure to weather, the original was transferred in 1873 to the Accademia Gallery, where the colossal nude masterpiece is still on display.

Creation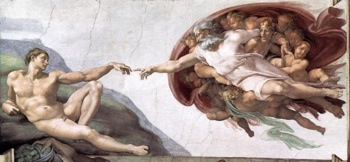 In 1508, when Pope Julius II put Michelangelo to the task of painting the ceiling of the Sistine Chapel, the artist did so with great reluctance for at least two reasons. He would have preferred working on the pope's tomb, a project he had previously been hired to complete but one which faltered when the notoriously unpredictable pope lost enthusiasm. Also, Michelangelo professed that he was more of a sculptor than a painter.

In its earlier days, the walls of the Sistine Chapel (built in 1483) were covered with frescoes depicting Biblical scenes, and about 60 feet above the marble floor was a 5,800-square-foot expanse with a blue starry sky. By 1508, large cracks were present in the plaster, requiring patches that demeaned the celestial realm. Julius wanted Michelangelo to create a new decorative scheme.

Michelangelo created a vast, elaborate panorama that included nine narrative panels, enthroned prophets and sibyls (the prophets' female counterparts who foretell Christ's coming), dozens of nude figures, and lunettes (half circles) depicting the ancestors of Christ. Unger writes that the work is one of "profound erudition and obscure symbolism...the passionate, unconventional vision of an artist who thought deeply about the miracle of Creation and developed his own unique language to confront life's most profound mysteries." In August 1510 the first half of the frescoes (from the entrance wall to the Creation of Eve) was completed. Michelangelo then stopped work for several months. On August 15, 1511, the Feast of the Assumptions, the finished part of the ceiling was unveiled. The following year, on All Saints' Day (November 1), the entire cycle was inaugurated.

The Medici Tombs (New Sacristy)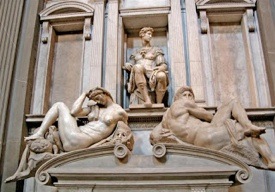 Julius died on February 21, 1513, and the Florentine Giovanni de' Medici—son of Michelangelo's first patron, Lorenzo de' Medici—became pope, taking the name Leo X. Following the deaths of his brother and nephew, Leo commissioned Michelangelo to create a tomb for these relatives in the family church of San Lorenzo in Florence. The Medici Chapel, or New Sacristy, possesses eccentric architecture and odd, distorted figures. Unger writes that the shrine Michelangelo created is "a monument to death, to absence, a temple of introspective melancholy."

The Last Judgment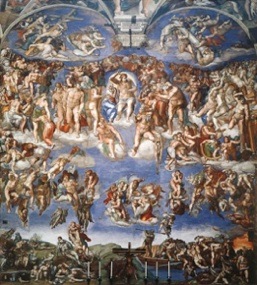 After the death of Pope Clement in September 1534, Cardinal Alessandro Farnese became pope, taking the name Paul III. First on his agenda was completing a project originally proposed by Clement: a monumental fresco for the altar wall beneath the spectacular Sistine Ceiling Michelangelo had completed decades earlier. The fresco would be an end-of-times panorama that would cover a wall 66 feet high and half as wide.

Michelangelo began The Last Judgment in the spring of 1536 and continued to work on the masterpiece for five years. It would prove to be his most controversial work, due in part to its pervasive nudity. Unger explains it was completed during a time when there was a "suspicion of anything that smacked of freethinking and a puritanical discomfort with the human body." The work also reflected the great religious debates that were occurring between Catholics and Protestants. It was an era when the Church's monopoly was being challenged by Martin Luther and his followers. The work, Unger writes, "breathes the spirit of reform, embodying a yearning for a new relationship with God, one unmediated by priests, that eschews the safety of empty ritual in favor of an intense and unsettling embrace of the divine."

St. Peter's Basilica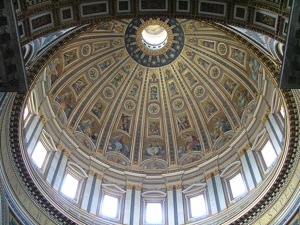 In 1547 Michelangelo became the chief architect for St. Peter's, the most sacred shrine in Christendom. Begun by the Emperor Constantine in 326 C.E., St. Peter's had been neglected for centuries, especially during the Babylonian Captivity (1309-78) when the popes had fled Rome. When they returned in the early years of the 15th century, they began a plan of urban renewal. Pope Nicholas V commissioned the architect Bernardo Rossellino to enlarge the existing structure, but in 1506 the unfinished work still remained by the old basilica, the victim of uncertain finances and weak leadership.

That year, construction began again under Julius II. Donato Bramante was the chief architect. His design included a massive, centrally planned structure based on a Greek cross with four equal arms surmounted by an immense, hemispherical dome. Over the next several years Bramante worked quickly and raised the four central piers that would support the dome before he died in 1514. Julius was also dead by this time, and Leo X became pope.

To raise the exorbitant funds for such an enormous project, Leo offered to remit the sins of the faithful in exchange for a cash contribution. The sale of these "indulgences" reached gargantuan proportions, especially in Germany. Martin Luther strongly objected to this practice, which ignited the Protestant Reformation. (Misunderstanding and abuse of granting indulgences began well before Leo's reign, as early as the 13th century.)

By the time Michelangelo became chief architect (under Pope Paul III), he was following in the footsteps of several architects, including Raphael and Antonio da Sangallo. Over 70 years of age and in poor health, Michelangelo was very reluctant to take on the arduous task. Nonetheless, Unger writes, though Michelangelo "was no longer vigorous, he still burned with ambition," and St. Peter's was the most prestigious and high-profile position to which an artist could aspire.

Michelangelo's most noticeable contribution is the dome, which he brilliantly reinterpreted based on Bramante's conception. Michelangelo's dome is not a hemisphere but a parabola; it has a vertical thrust made more striking by the ribbing that arises from the Corinthian columns.


Picture of Pietà by Stanislav Traykov
Picture of David by MarcusObal
Picture of Creation by Art Bible
Picture of the Medici Tombs from Lee's Tuscan Odyssey
Picture of the Last Judgment by Arnaud
Picture of St. Peter's Basilica by Bestourism.com

This article was originally published in August 2014, and has been updated for the July 2015 paperback release. Click here to go to this issue.
This article is available to non-members for a limited time. You can also read these articles for free. For full access, become a member today.
Membership Advantages
Reviews
"Beyond the Book" backstories
Free books to read and review (US only)
Find books by time period, setting & theme
Read-alike suggestions by book and author
Book club discussions
and much more!
Just $10 for 3 months or $35 for a year