Beyond the Book:
The Rise of Las Vegas
The story of Las Vegas's meteoric rise from desert backwater to world-class city provides the backdrop to Laura McBride's debut novel, We Are Called to Rise, in which four city residents' lives intersect in unpredictable ways. The characters have a wide range of opinions about their hometown. While Roberta and Bashkim love the bleak beauty of the Nevada desert and its wildlife, Avis and her friends often decry the disadvantages of living "in a town nicknamed Sin City, in a place most American families wouldn't dream of bringing their children, in a state where prostitution is legal and gambling is sacrosanct."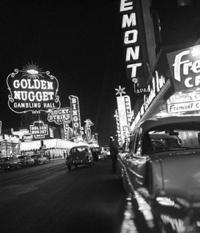 The city of Las Vegas has only existed for a little over a century, since 1905, when 110 acres next to the Union Pacific railroad tracks were auctioned. This land now forms the heart of downtown Vegas. In 1930 the population was just 5,165. Nevada legalized gambling in March 1931 and, especially from the 1950s onwards, casinos have been one of the primary factors behind the city's boomtown expansion – a term referring to any community that exhibits sudden growth in its population and economy. Vegas was a "boom" town in another sense entirely between 1951 and 1963, when the Nevada Test Site (65 miles northwest of Vegas) was used for over 100 nuclear explosions. Radiation risks were little understood at the time, so mushroom clouds were touted as a tourist attraction, with bars serving special "atomic cocktails." In 1963 the tests were moved underground, where the last one took place as recently as 1992.

The Las Vegas Convention Center, built in 1959, has brought the city significant revenue in subsequent decades, as has the Southwest Gas utility company. Aviation entrepreneur Howard Hughes moved to Las Vegas in 1966 and amassed an empire of hotels and real estate. He started the trend for corporations buying hotel-casinos, which legitimized "gaming" as a classy pursuit. In 1969 Elvis Presley opened his show at the International Hotel (now the Las Vegas Hotel); he played 837 sold-out performances in a row, through 1976. Some of the biggest acts to perform at the Strip in the last few decades are Liberace, Wayne Newton, Tom Jones, Celine Dion, Elton John, and magicians David Copperfield, Siegfried & Roy, and Penn & Teller.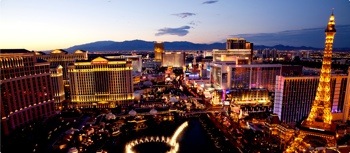 By 1980 the population of Las Vegas had ballooned to 164,674. The mid-80s brought another economic boom, with an annual population increase of seven percent, alongside a four percent yearly increase in hotel rooms and a nine percent annual rise in job opportunities. In 2000 Las Vegas was recognized as the largest U.S. city founded in the twentieth century. Centennial celebrations lasted throughout the year of 2005.

The state of Nevada overall and especially the greater Las Vegas area were considered the epicenter of the home foreclosure crisis that resulted from the Great Recession of the late 2000s. It stalled construction of new homes and hotels, and caused net losses at some casinos.

As of the 2010 census, the population of Las Vegas was 583,756 – well over 100 times what it was in 1930 – making it now the 31st most populous city in the United States.

You can learn more about the unconventional history of Las Vegas and see the documentary from American Experience on PBS.
Picture of retro Vegas from Art of Manliness
Picture of Vegas strip from Jet Blue Vacations

This article was originally published in July 2014, and has been updated for the April 2015 paperback release. Click here to go to this issue.
This article is available to non-members for a limited time. You can also read these articles for free. For full access, become a member today.
Membership Advantages
Reviews
"Beyond the Book" backstories
Free books to read and review (US only)
Find books by time period, setting & theme
Read-alike suggestions by book and author
Book club discussions
and much more!
Just $10 for 3 months or $35 for a year