Brooklyn's Bushwick Neighborhood
This article relates to The Snow Queen
In The Snow Queen, Michael Cunningham sets many scenes in the Brooklyn neighborhood of Bushwick, an area that's still working toward revitalization after decades of economic strife and urban turbulence.

Bushwick and the areas now known as Williamsburg and Greenpoint were originally one Dutch settlement, the Town of Bushwick. The land was officially chartered by Governor Peter Stuyvesant in 1660 and called Boswijck, which means heavy woods.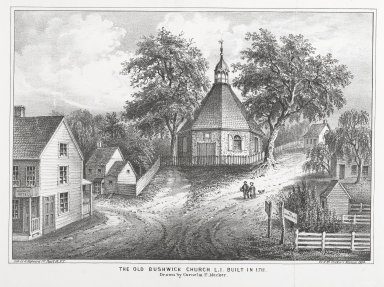 The area was rural until the 1850s. The former Town of Bushwick then merged with the City of Brooklyn in 1855. Afterward, population doubled and tripled every 20 years. Varying industry — including shipping, oil, pottery, and clothing — thrived along the waterfront and attracted German, and eventually Italian, immigrant workers. By the 1880s a "Little Germany" was created, with an abundance of breweries, beer halls, and restaurants.

During this time, the neighborhood experienced a building boom, resulting from advances with transportation such as electrified streetcars and subways that connected Bushwick to Manhattan. In the late 19th and early 20th centuries, family houses and mansions were built, as well as Bushwick High School. Among its students were film producer Irving Thalberg and Joseph Hirshhorn, a financier and one of the country's great art collectors.

For decades Bushwick was a solid working-class community and also a shopping destination for all of Brooklyn. By the mid-1960s, however, the neighborhood started to decline as impoverished Southern blacks and Puerto Rican immigrants inundated northern urban areas, including central Brooklyn. A 2008 City Journal article, "The Death and Life of Bushwick," reported that "unscrupulous real-estate agents and speculators tried to frighten white Bushwick residents — a practice known as 'blockbusting.'" Speculators bought homes from Bushwick residents for an average of $8,000 apiece and then fraudulently sold them to poor blacks and Puerto Ricans for prices they couldn't afford. The average was about $20,000 per house. As a result, many defaulted and abandoned their homes. Local property values plummeted. Buyers were loath to invest in the neighborhood.

In the following years crime and disorder were rampant. Owners started torching their own empty buildings so they could collect fire insurance. Gangs set fire to abandoned buildings and then stole the valuable fixtures and copper wiring after the fire department had done the hard work of knocking down walls and floors. By the early seventies, according to the City Journal article, infernos were blazing nightly. By the middle of the decade, misguided efforts by Mayor John Lindsay's administration led to half of Bushwick's residents being on public assistance. Burglaries and robberies were soaring.

Then, on the evening of July 13, 1977, New York had a massive blackout. Chaos ensued in Bushwick, with mobs of looters brazenly breaking into stores by foot or with trucks or vans they loaded with stolen goods. The devastation made national headlines.

Some positive change occurred when Mayor Ed Koch took office. The city knocked down vacant buildings in Bushwick and took initiatives to make other improvements, including the construction of middle-income homes for families. Despite these measures, Bushwick's problems were too extensive to be overcome within a short period of time. Poverty, gangs, drug-dealing and abuse plagued the area throughout the eighties and early nineties.

Finally, by the mid-nineties, substantial renewal began to occur when Mayor Rudolph Giuliani's first police commissioner, William Bratton, revamped the NYPD. Murders and total violent crime dropped significantly. A citywide economic revival also helped Bushwick. The area benefited from welfare reform and major tax cuts.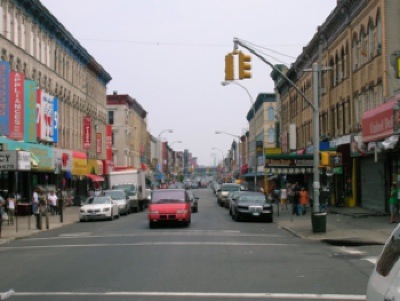 In the latter part of the decade a new generation started to move to the area: mainly writers, artists, or students looking for a good deal in a neighborhood that, while somewhat revitalized, was still burdened with problems, including a high crime rate. By 2003, however, a housing revival began, due in large part to the city granting significantly more permits for building in comparison to previous years.

The area has continued its struggle with crime and other urban issues, but strides have been made with building and renovation, albeit with noted tension over the years. Upscale complexes have been opposed by the neighborhood's mainly Hispanic population, who assert that poor residents will be forced out.

According to 2010 figures compiled by the New York City Department of City Planning, Bushwick is home to more than 100,000 residents. In February 2014, The New York Times described the neighborhood as a place "where hulking warehouses and graffiti-covered walls still far outnumber trees and grass...a haven for artists, newly minted college graduates, working-class families and freelancers of all stripes." The article also described the area as "easier on the wallet" than Manhattan and, as of late, "surprisingly sophisticated."


Picture of contemporary Bushwick by Ando228. Picture of old Bushwick church in early eighteenth century drawn by Cornelia Meeker. The First Dutch Reformed Church was constructed in the town of Bushwick (north of the town of Brooklyn) in the octagonal shape typical of Protestant churches in the Netherlands. From the Brooklyn Museum Collection.

Filed under Places, Cultures & Identities
This "beyond the book article" relates to The Snow Queen. It originally ran in July 2014 and has been updated for the May 2015 paperback edition. Go to magazine.
This review is available to non-members for a limited time. For full access become a member today.
Membership Advantages
Reviews
"Beyond the Book" articles
Free books to read and review (US only)
Find books by time period, setting & theme
Read-alike suggestions by book and author
Book club discussions
and much more!
Just $45 for 12 months or $15 for 3 months.