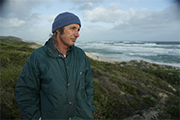 Tim Winton, the author of Eyrie, is that rare thing: a literary best-selling writer. While most American readers might still be getting to know this prolific author, he is as close to a national monument as person can get in his native Australia.

Born in 1960, Winton started work on his first novel at the age of just 19 when he was enrolled in a creative writing course at Curtin University in Perth. That first work, the novel Open Swimmer, went on to win the Vogel Australian National Literary Award. Since then, Winton has written dozens of books: novels, short-story collections and books for children. His work has received close to two-dozen awards including the prestigious Miles Franklin award. Two novels, Dirt Music and The Riders have been shortlisted for the Man Booker prize.

Despite his early literary acclaim, Winton and his family had many financial struggles; his wife, Denise, had to plead for a $150 bank loan to buy food and presents one Christmas. It wasn't until ...