Artwork in The Painter
This article relates to The Painter
Art plays a very important role in Peter Heller's vibrant and introspective second novel, The Painter. Narrator Jim Stegner describes various famous works of art as a way of processing his emotions. He expresses how the colors and textures of each masterpiece affect him at a deep level, and he ponders what these emotions mean about his personality, his mental state, and the human condition. It's a fascinating way to get to know a character; to peek inside Stegner's thoughts as he encounters a painting for the first time and understand how his feelings relate to the context of the painting itself - when, why, how it was created. Below are images of four paintings he mentions in the book, brief historical and technical descriptions of those works, and selections from his internal reactions.

Pablo Picasso's Guernica (1937)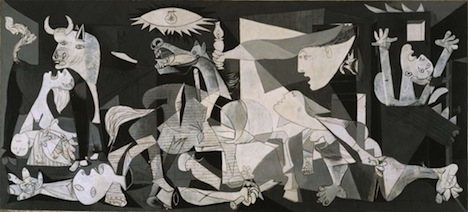 "An accurate depiction of a cruel, dramatic situation, Guernica was created to be part of the Spanish Pavilion at the International Exposition in Paris in 1937. Pablo Picasso's motivation for painting the scene in this great work was the news of the German aerial bombing of the Basque town whose name the piece bears. Neither the studies nor the finished picture contain a single allusion to a specific event, constituting instead a generic plea against the barbarity and terror of war. The muted colors, the intensity of each and every one of the motifs and the way they are articulated are all essential to the extreme tragedy of the scene…" (Museo Nacional Centro de Arte Sofia Reina website)

[I think of Guernica, the painting. The knife in the horse. A story I read once by one of the Russians, maybe Chekhov, a man beating a horse. How seeing it happen is so much worse. A big man wreaking his anger on a tied horse who cannot even beg. (p.37)]

Paul Delvaux's Sleeping Venus (1944)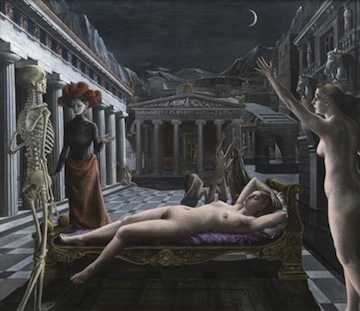 "Delvaux's work combined classical perfection with an erotic and troubling atmosphere. The sensuousness of Sleeping Venus is set against its oppressive night-time setting. Delvaux later explained that it was painted in Brussels during the German wartime occupation and while the city was being bombed. 'The psychology of that moment was very exceptional, full of drama and anguish,' he recalled. 'I wanted to express this anguish in the picture, contrasted with the calm of the Venus.'" (display caption at the Tate Museum)

[Guilt maybe. At the voyeurism of studying this woman who could not know I was watching. At the shame of being stimulated by a body that might be a corpse. It was a dark and groaning and maybe violent feeling, violent in the sense of being drawn, exquisitely, toward death and what it does to all things in its proximity. The way it both chills and sanctifies them. (p.267)]

Pablo Picasso's Nude Woman in a Red Armchair (1932)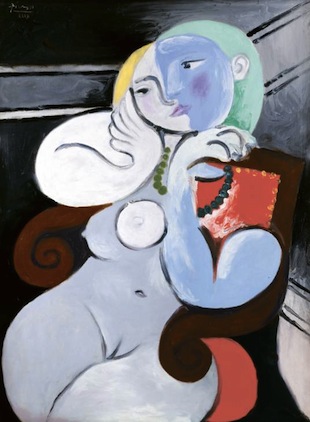 "This work belongs to the remarkable sequence of portraits that Picasso made of Marie-Thérèse Walter at his country property at Boisgeloup. Marie-Thérèse is presented here – as in most of her portraits – as a series of sensuous curves. Even the scrolling arms of the chair have been heightened and exaggerated to echo the rounded forms of her body. The face is a double or metamorphic image: the right side can also be seen as the face of a lover in profile, kissing her on the lips." (Tate Museum display caption)

[The painting was so simple. Simple joy, simple sensual heat, simple love in her presence. I felt what Picasso must have felt. She was clearly an uncomplicated soul and I imagined that she reduced all the world before her to its simplest and most fiercely living elements. I imagined that the world talked back to her in the clearest colors, the cleanest music. How else to live in love? (p.266)]

Winslow Homer's The Fog Warning (1885)


"The Fog Warning is a painting with a narrative, though its tale is disturbing rather than charming. As indicated by the halibut in his dory, the fisherman in this picture has been successful. But the hardest task of the day, the return to the main ship, is still ahead of him. He turns to look at the horizon, measuring the distance to the mother ship, and to safety. The seas are choppy and the dory rocks high on the waves, making it clear that the journey home will require considerable physical effort. But more threatening is the approaching fog bank, whose streamers echo, even mock, the fisherman's profile." (Museum of Fine Arts Boston website)

[It shocked me. This was a shock of life. …This sea was alive and the colors, they came through my skin and they were cold. The slates and silvers and grays. And how the man was pinned on the sea between life and death…How I was feeling, I guess in my own life, why it hit me so hard. The fog meant oblivion, but it also meant respite. I was seventeen and I was already exhausted. (p.205)]



Other artists Stegner ponders include Georgia O'Keeffe, Robert Rauschenbert, and Henri Matisse.
Filed under Music and the Arts
This "beyond the book article" relates to The Painter. It originally ran in May 2014 and has been updated for the March 2015 paperback edition. Go to magazine.
This review is available to non-members for a limited time. For full access become a member today.
Membership Advantages
Reviews
"Beyond the Book" articles
Free books to read and review (US only)
Find books by time period, setting & theme
Read-alike suggestions by book and author
Book club discussions
and much more!
Just $12 for 3 months or $39 for a year.