Art plays a very important role in Peter Heller's vibrant and introspective second novel, The Painter. Narrator Jim Stegner describes various famous works of art as a way of processing his emotions. He expresses how the colors and textures of each masterpiece affect him at a deep level, and he ponders what these emotions mean about his personality, his mental state, and the human condition. It's a fascinating way to get to know a character; to peek inside Stegner's thoughts as he encounters a painting for the first time and understand how his feelings relate to the context of the painting itself - when, why, how it was created. Below are images of four paintings he mentions in the book, brief historical and technical descriptions of those works, and selections from his internal reactions.

Pablo Picasso's Guernica (1937)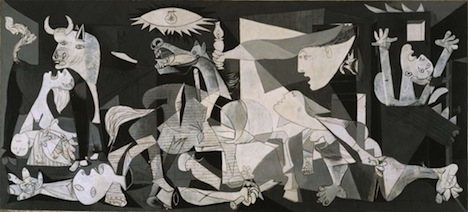 "An accurate depiction of a cruel, dramatic situation, Guernica was created to be part of the Spanish Pavilion at the International Exposition in Paris in ...