The mouth of the Columbia River – where it meets the Pacific Ocean at the state border between Oregon and Washington – was John Jacob Astor's intended location for a trading center.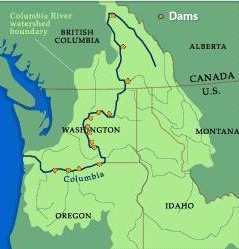 The Columbia River flows for 1,243 miles from its source at Columbia Lake, British Colombia through Washington and Oregon. It is the largest river flowing from North America into the Pacific. It is the fourth largest river by volume in North America (behind the Mississippi, St. Lawrence and MacKenzie rivers) with a watershed that drains an area the size of France (259,000 square miles) from seven states and British Columbia. The Columbia's largest tributary is the Snake River, which travels over a thousand miles from its source in Yellowstone National Park to its confluence with the Columbia in eastern Washington.

It's believed that the waterway was formed between 12,000 and 19,000 years ago at the end of the last Ice Age. Massive ice dams blocked glacial melt and created a huge lake ...