The Galveston hurricane of September 8, 1900, is still regarded as the deadliest natural disaster in U.S. history, this devastating storm swept away everything in its path, left an estimated 10,000-12,000 dead and thousands more homeless. Residences and businesses were leveled; debris was tossed everywhere, and the smell of death blanketed the entire island.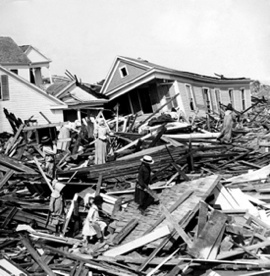 At the time, Galveston was the largest city in Texas, a bustling seaport with a population of 38,000. Located on an island nestled in the Gulf of Mexico, Galveston is a mile from the mainland and approximately sixty miles from what was then the smaller city of Houston. The island itself is less than thirty miles long and only three miles across at its widest point. Then, as now, it was a place well used to tropical storms but on that fateful Saturday, it was woefully unprepared.

To begin with, Galveston was not very high above sea level - an average of nine feet. The hurricane, packing 135 mile-an-hour winds (a Category 4...