Commercial Diving
This article relates to Trapped Under the Sea
Because the Boston Harbor cleanup required work underwater, a team of commercial divers was brought in. Trapped Under the Sea focuses primarily on these divers and the disastrous project that lead to two deaths.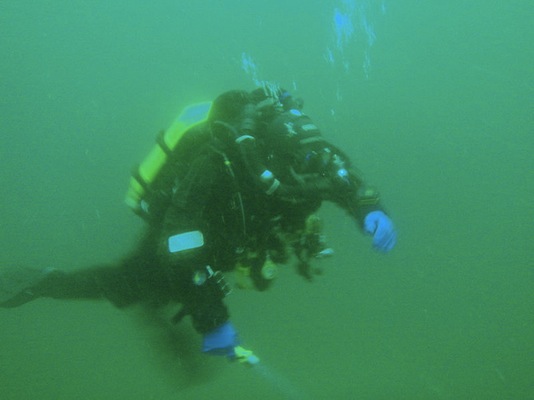 Commercial diving includes both offshore and inland projects. Much offshore diving is connected with the oil industry, with divers working from rigs stationed offshore. Inland diving involves engineering projects - the building and maintenance of dams, bridges - in rivers and lakes etc. Welding and other construction work is pretty common in all kinds of commercial diving projects.

Since commercial diving involves working deep under water (even up to depths of 1,000 feet) specialized equipment is par for the course. A wet suit maintains insulation through layers of neoprene but as the name implies, makes the diver wet. A dry suit achieves insulation by allowing the diver to wear specialized warm clothing underneath; while a hot suit, (which is similar to a wet suit, except that hot water is circulated through the suit by means of a surface water heater) is useful for conditions where there is freezing water outside.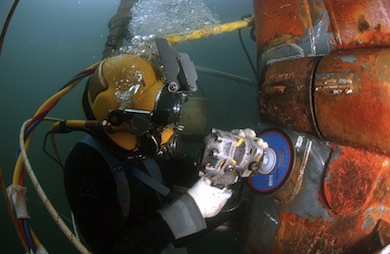 The breathing equipment used varies depending on the depth and duration of the dive. Sometimes, for scientific study work, scuba-like equipment such as rebreathers are used, which essentially recirculate breathing air. Most often, for commercial diving, workers wear masks or expensive diving helmets which are fitted with communication and sometimes video facilities. In such a case, surface equipment circulates breathing air through tubes called umblicals. In Trapped, the divers had to venture not just deep down but also through such narrow tunnels that they ended up relying on (faulty) breathing equipment that was carried on person. While carrying breathing apparatus on person is not unusual, in this instance, divers had to haul equipment that required mixing of oxygen and nitrogen right at the point of delivery. This particular mechanism had not been tested before and didn't work as needed.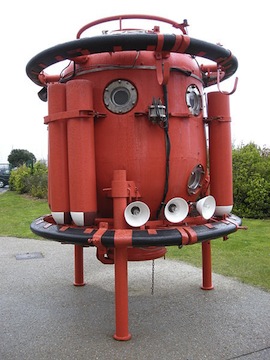 Divers must always be careful of getting decompression sickness known as "the bends", which at best is painful, and at worst can be fatal. The pressure underwater causes gases in the body, such as nitrogen, to be absorbed into the water in a diver's body. As the diver surfaces this gas comes out of solution. If the diver surfaces slowly the gas is released safely; if he or she surfaces too fast, it's like opening a bottle of soda - the gas bubbles cannot be absorbed and instead get lodged dangerously and painfully in parts of the body. The body's absorption of gas under pressure is a function of both time in the water and depth, so is a risk for all divers to be aware of but a constant fact of life for commercial divers. To prevent decompression sickness, closed diving bells (where the internal pressure is adjusted mechanically) are used, both to manage the decompression process after a dive and to house divers under pressure for days at a time when it is not practical for them to go through multiple hours of decompression on a daily basis.

It is not just divers working under water that can get decompression sickness, anyone working in pressurized conditions is susceptible. The earliest documented cases date from around the middle of the 19th century in miners working in mine shafts that had been pressurized to keep water out.

For some pretty cool welding construction underwater, check out this video.


Image of diver using rebreather. Courtesy of Peter Southwood.
Image of Navy Diver 1st Class Josh Moore. See umbilical supplying air. Courtesy of Andrew McKaskle.
Image of modern diving bell. Courtesy of Ji-Elle.
Filed under Cultural Curiosities
This "beyond the book article" relates to Trapped Under the Sea. It originally ran in March 2014 and has been updated for the February 2015 paperback edition. Go to magazine.
This review is available to non-members for a limited time. For full access become a member today.
Membership Advantages
Reviews
"Beyond the Book" articles
Free books to read and review (US only)
Find books by time period, setting & theme
Read-alike suggestions by book and author
Book club discussions
and much more!
Just $45 for 12 months or $15 for 3 months.