Beyond the Book:
Justin Vernon
Nickolas Butler based one of the characters in Shotgun Lovesongs on Justin Vernon, a successful musician with whom he went to high school in Eau Claire, Wisconsin.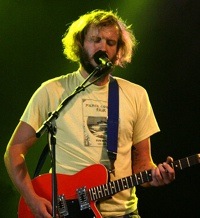 Singer, songwriter and producer Justin DeYarmond Edison Vernon was born April 30, 1981 in Eau Claire. According to his father, he started writing songs at the age of 12, and was part of various bands throughout his high school and college years. He attended the University of Wisconsin-Eau Claire majoring in Religious Studies and minoring in Women's Studies, all the while continuing to pursue music on the side.

Vernon first teamed up with friends Brad Cook (bass, guitar), Phil Cook (keyboards, banjo) and Joe Westerlund (percussion) in 1997 when the four were sophomores in high school. They bonded during music festivals and camps, eventually forming a group called DeYarmond Edison in 2002. They enjoyed some small success in Wisconsin, but decided to explore other musical scenes, moving to Raleigh, S. Carolina. They released three albums together in 2004-2006, after which the group decided to part company because of creative differences, with Vernon preferring a more classic indie-rock approach to the others' increasingly avant-garde style. Vernon returned to Wisconsin while the other three bandmates formed the group Megafaun.

Vernon eventually felt the pull of music calling him back and he began to write again, making low-tech recordings using just a few guitars, a laptop and a couple of microphones. He played all the instrumentals and sang all the vocals, which required him to do a large number of overdubs to get the effect he wanted. The result was the album For Emma, Forever Ago. He'd originally intended it only as a demo which he'd mail out to music producers in the hope that a studio would buy a song for recording by other artists, but the reception was so positive he opted to release the CD as recorded under the band name "Bon Iver" (pronounced bone-ee-vehr, a corruption of the French bon hiver – "good winter" – a greeting he'd heard on an episode of Northern Exposure). The independently produced album received a lot of attention, and Vernon eventually signed with Jagjaguwar in October 2007, which officially released For Emma, Forever Ago in February 2008.

Bon Iver's second album, Bon Iver, Bon Iver, was released in 2011. Incidentally the band also included other artists such Michael Noyce, Sean Carey, Colin Stetson and Matthew McCaughan. Bon Iver went on to win the 2012 Grammy Award for Best New Artist, and Bon Iver, Bon Iver won for Best Alternative Album, with one of its tracks, "Holocene," being nominated for the Song of the Year. The songs on the album are all places that have meaning for Vernon, with names such as Perth; Minnesota, WI; and Lisbon, OH. He told MOJO that Holocene was the name of a bar in Portland where he had a "dark night of the soul."

In a 2012 interview with Rolling Stone, Vernon stated that he was disbanding Bon Iver. "[I'm] winding it down. I look at it like a faucet. I have to turn it off and walk away from it because so much of how that music comes together is subconscious or discovering. There's so much attention on the band, it can be distracting at times. I really feel the need to walk away from it while I still care about it. And then if I come back to it – if at all – I'll feel better about it and be renewed or something to do that." He confirmed the hiatus at the last Bon Iver concert in Dublin on November 12, 2012.

Vernon continues to write, record and produce music. He rents an apartment in downtown Eau Claire and designed a recording studio not far away in Fall Creek (in an old veterinary clinic he purchased with his brother). He collaborated with Kanye West, who used a number of his tracks for his album My Beautiful Dark Twisted Fantasy. Vernon also performs and records with bands Volcano Choir and Gayngs.

Click on video below to listen to the song "Holocene."
Picture of Justin Vernon with Bon Iver performing at Way Out West by Simon Appelblad from Wikipedia.org

This article was originally published in April 2014, and has been updated for the February 2015 paperback release. Click here to go to this issue.
This article is available to non-members for a limited time. You can also read these articles for free. For full access, become a member today.
Membership Advantages
Reviews
"Beyond the Book" backstories
Free books to read and review (US only)
Find books by time period, setting & theme
Read-alike suggestions by book and author
Book club discussions
and much more!
Just $10 for 3 months or $35 for a year