Nickolas Butler based one of the characters in Shotgun Lovesongs on Justin Vernon, a successful musician with whom he went to high school in Eau Claire, Wisconsin.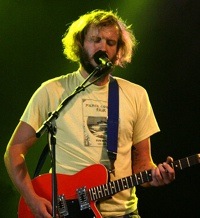 Singer, songwriter and producer Justin DeYarmond Edison Vernon was born April 30, 1981 in Eau Claire. According to his father, he started writing songs at the age of 12, and was part of various bands throughout his high school and college years. He attended the University of Wisconsin-Eau Claire majoring in Religious Studies and minoring in Women's Studies, all the while continuing to pursue music on the side.

Vernon first teamed up with friends Brad Cook (bass, guitar), Phil Cook (keyboards, banjo) and Joe Westerlund (percussion) in 1997 when the four were sophomores in high school. They bonded during music festivals and camps, eventually forming a group called DeYarmond Edison in 2002. They enjoyed some small success in Wisconsin, but decided to explore other musical scenes, moving to Raleigh, S. Carolina. ...