Beyond the Book:
The Raw Food Movement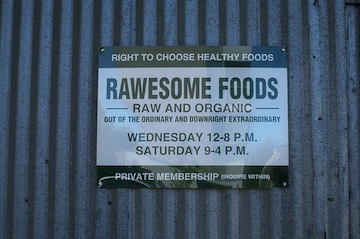 One of the avant-garde trends in American cuisine explored in Anything That Moves is the growth of the raw food movement. Raw foodists believe that cooking destroys critical enzymes from food needed for good health and digestion. So everything - milk, meat, vegetables, grains - is consumed raw. Special co-ops around the country deliver these raw foods to consumers often flying under the radar because the laws that govern selling unpasteurized dairy vary from state to state. Rawesome is one such co-op in Los Angeles which is profiled in Anything That Moves. Its director, James Stewart, often sets up the sales from a parking lot. Included in the offerings are all kinds of raw meats including bison. Rawesome has been shut down twice by health officials but the members remain committed to the cause.

While fruits and vegetables can be consumed raw without much modifications, it is easy to see that hard grains such as rice and flax are going to need some further processing. Raw foodists typically soak rice and other pulses to soften the grains. They are then softened, blended and pressed to yield "tortillas" and crackers. These can even serve as the base for "pizzas" in raw food recipes.


While raw foodists can consume meat, eggs and dairy in addition to other foods, the subset of vegan raw food is even more stringent. A blender to make green smoothies and dehydrators are essential gear for the hardcore converts.

I have visited Boston's vegan raw food restaurant, Prana, and found the menu offerings interesting. As with vegetarian food where tofu and seitan try to duplicate the taste and texture of meat, raw food tries to mimic cooked food options. So it is that Prana offered "lasagna", essentially wafer-thin slices of zucchini layered with nut butter; and even "sushi", crumbled cauliflower and sprouts rolled in nori.

While raw food enthusiasts tout the many advantages of their eating lifestyle, it is not without its critics. For one thing, while these foodies readily embrace the bacteria that come with raw food, arguing that they are even necessary for a healthy digestive system, the prevalence of dangerous bacteria in raw eggs and meat can be a real concern. While it is true that cooking vegetables might dilute certain water-soluble vitamins such as B and C, it has been argued that it actually increases the availability of many nutrients including beta-carotene and iron.

The movement seems to be making slow inroads into the mainstream community. Raw food restaurants are cropping up in urban centers and food blogs deliver interesting recipes (including vegan sushi) for the enthusiast. The blogger Get Rawcous details a two-week raw food diet that is worth checking out.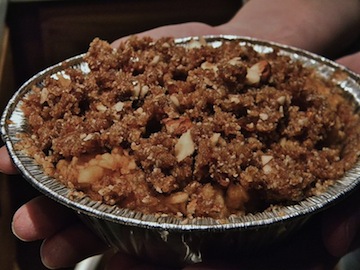 At Boston's Prana (which incidentally is no longer in business although the city does have other vegan raw food restaurants), once we were done with the meal, we were ready for some hot cooked food and decided to swing by next door for some chocolate lava cake. I am a vegetarian (and often a vegan) but even for me, eating raw vegan was simply an adventure, not worth getting into every day. And it is precisely these kinds of adventures that Dana Goodyear gives a special nod to.
photo of Rawesome Food sign
raw food pyramid photo credited to Raw Living Asia
raw apple pie photo credited to martinak14
This article was originally published in January 2014, and has been updated for the November 2014 paperback release. Click here to go to this issue.
This article is available to non-members for a limited time. You can also read these articles for free. For full access, become a member today.
Membership Advantages
Reviews
"Beyond the Book" backstories
Free books to read and review (US only)
Find books by time period, setting & theme
Read-alike suggestions by book and author
Book club discussions
and much more!
Just $10 for 3 months or $35 for a year