After I finished reading The Last Man Standing, I became curious about post-apocalyptic novels written by authors from countries outside of the United States. A rather lengthy and frustrating Internet search led me to science fiction conventions around the world, prizes awarded, and books that have been translated into English. It also brought up the question of the difference between the post-apocalyptic and dystopian genres.

Earlier this year, BookBrowse reviewer Cindy Anderson wrote about Dystopian Fiction in the Beyond The Book feature for Kat Zhang's What's Left of Me. Briefly the difference is that dystopian literature deals with worlds that are the very opposite of utopias, while post-apocalyptic books imagine the world after a devastating occurrence. As with many genres, there is considerable overlap between the two, for example, many, but not all, post-apocalyptic novels have dystopian settings.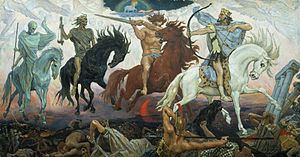 The word apocalypse literally means "uncovering", a time when something ...