Beyond the Book:
Archaeopteryx: The Link Between Dinosaurs and Birds
In S. J. Gazan's The Dinosaur Feather, when Professor Lars Helland, a cantankerous PhD advisor at the Institute of Biology in Copenhagen, is found dead in his office, the police soon discover a copy of PhD student Anna Bella Nor's thesis on his lap…covered in blood. Her controversial paper puts to rest a major scientific debate between Helland and his long-time rival, the hotheaded Dr. Clive Freeman. She dares to prove, once and for all, that birds are, in fact, present-day dinosaurs.

Many Paleo-ornithologists today believe that birds descended from dinosaurs, but deciphering the family tree is (and has been) a very difficult matter. According to award-winning environmental journalist Gareth Huw Davies, "Numerous finds in recent years seemed to support the hypothesis that birds descended from two-legged, running dinosaurs called theropods. This theory was born with the discovery of a 150-million-year-old fossilized creature in a swamp in Germany in the 1860s. Archaeopteryx was possibly the most controversial prehistoric remain ever dug up."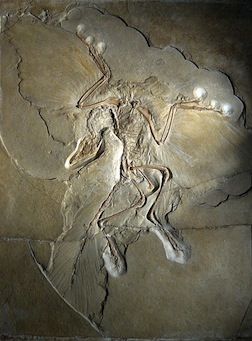 Researchers at UC Berkeley explain that fossilized bones of Archaeopteryx were first found in the mid-19th century in what is now Bavaria (the area between Munich and Nuremberg). They were discovered in a type of Jurassic, fine-grained limestone called Solnhofen Limestone, named after the small town of Solnhofen. "Although relatively rare, fossils from the Solnhofen Limestone may show exquisite detail, and often include fragile or soft-bodied organisms that usually leave no fossils at all, or only fragmentary ones." Because so much detail was preserved, scientists soon realized that Archaeopteryx was an incredible find.

"Unlike all living birds, Archaeopteryx had a full set of teeth, a rather flat sternum ("breastbone"); a long, bony tail; gastralia ("belly ribs"); and three claws on the wing, which could have still been used to grasp prey (or maybe trees). However, its feathers, wings, furcula ("wishbone") and reduced fingers are all characteristic of modern birds," Berkeley researchers say. Because of these remarkable similarities, Archaeopteryx has long been recognized as the earliest and most primitive known bird and has been considered the evolutionary link between dinosaurs and modern birds, falling somewhere between the predatory Velociraptor (which interestingly, may have had feathers) and a magpie or raven.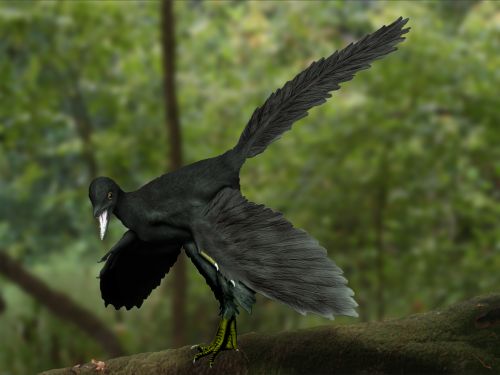 Of course, as Davies points out, "…not all scientists agree with the birds-from-dinosaurs link. Alan Feduccia, professor of biology at the University of North Carolina, is a notable doubter. He contends that Archaeopteryx wasn't the ancestor of all birds, but just another of nature's many experiments. He argues that a huge evolution of birds had been going on before Archaeopteryx, and that they evolved from four-legged reptiles." And new information is being learned every day. As recently as June 2013, as stated in an article in Nature, "The recent discovery of small paravian thropod dinosaurs with well-preserved feathers… has challenged the pivotal position of Archaeopteryx, regarded from its discovery to be the most basal bird."

It's likely that the mysteries of Archaeopteryx will keep paleontologists busy for many years to come, and as research continues, and scientists piece together the fragments of information learned from fossils, we will gain a better understanding of the larger picture – much the same way Detective Søren Marhauge pieces together clues in The Dinosaur Feather.
All images of Archaeopteryx.
First is an artist's rendition from Dinosaur Jungle
Second is original fossil photographed by H. Raab
Third is another artist's rendition following Carney's 2011 feather coloration study, indicating that at least some of the feathers on the animal were black by Nobu Tamura
This article was originally published in November 2013, and has been updated for the November 2014 paperback release. Click here to go to this issue.
This article is available to non-members for a limited time. You can also read these articles for free. For full access, become a member today.
Membership Advantages
Reviews
"Beyond the Book" backstories
Free books to read and review (US only)
Find books by time period, setting & theme
Read-alike suggestions by book and author
Book club discussions
and much more!
Just $10 for 3 months or $35 for a year