Dogs for Defense
This article relates to A Man of His Own
On December 7, 1941, Pearl Harbor was attacked and the US entered the war. The value of dogs in the military had been proven many times, particularly during WWI, as they were used by the European armies as sentries, message-carriers and fox-hole clearers (of rats before the soldiers entered.). Although there were relatively few military dogs in the US at the time, the need for them was clear.



A private citizen came to the rescue. Mrs. Alene Erlanger, a well-known, highly respected poodle breeder based in New York, created the Dogs for Defense program. The American Kennel Club supported her idea. For the most part, the public reaction was positive and people were eager to send their dogs to be a part of the war effort. Even Hollywood got involved in the Dogs for Defense program. Greer Garson sent Cliquot, her poodle; Mary Pickford sent Silver, her German shepherd; and Rudy Vallee sent King, his Doberman. It is estimated that 40,000 dogs were sent over a two-year period, and about 10, 000 of these were accepted for full training.

Initially about 30 different breeds were allowed into the program. Dogs had to be between the ages of 1 and 5 years and weigh at least 50 pounds. Color was a consideration too. More easily camouflaged colors – greys, blacks and browns – were required and dogs with white markings were rejected because they would be too easily spotted. Through trial and error it became clear that the best age to train a dog was around 18 months old, and the most trainable breeds were German Shepherds (excellent nose, strength and courage), Belgian Sheepdogs (exceptionally alert, intelligent and loyal), Collies (alert, fast and able to endure), Siberian Huskies and Malamutes (feet well adapted for ice), and Doberman Pinschers (like the German Shepherds, powerful nose, speed, power and agility).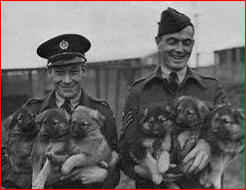 Henry Stoecker, a trainer at Alene Erlanger's kennel and Elliot Humphrey, a well-known trainer for the Seeing Eye organization, helped develop the training program. In June 1942, the U.S. Military took control of the training program at the Remount Branch, Service Installations Division, which had previously obtained horses and mules for military service. A few other training camps were set up for specific training purposes. Camp Rimini, which was just outside Helena, Montana, had enough snow throughout the year to train sledge dogs, and Cat Island (barrier island off the Gulf Coast) in Gulfport, Mississippi had a tropical climate which made it ideal for training dogs for the Pacific battles.

The dogs were trained in eight categories:
Sentry Dogs: Helped with guard duty at arsenals, ammunition dumps, ration depots, and water works. Their main job was to warn of intruders.
Attack Dogs: Used by the Coast Guard for the capture of trespassers.
Tactical Dogs: Accompanied soldiers in combat situations. Different than the other training categories, this was experimental, using camouflage and gas masks.
Silent Scout Dogs: Trained to detect scent on the wind, and give a silent warning when enemy troops were approaching.
Messenger Dogs: Delivered messages on the battlefield, and were trained by two trainers, who used the dogs' innate desire to please both by running from one to the other.
Casualty Dogs: Aided the medical corps in finding wounded soldiers.
Sledge Dogs: Located downed airmen in the Army Air Forces in deep snow areas.
Pack Dogs: Transported up to 40 pounds of gear such as small machine guns, ammunition and food. Only a few were trained and it is unclear whether any carried out their duties in war.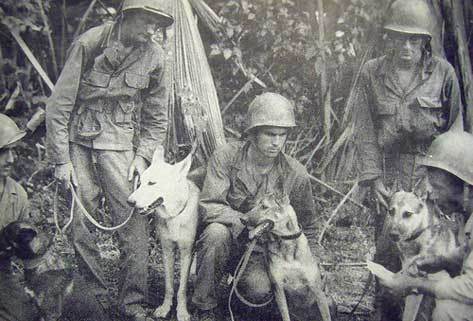 Many dogs contributed their learned and intuitive skills to the war effort. Two of these canine military partners:

Buster was a messenger dog with Company F, 155th Infantry Regiment on Morotai Island. He ran through heavy machine gun and mortar fire on two different occasions, delivering instructions for the soldiers to hold position because help was on its way. Buster saved the lives of 17 soldiers - an entire patrol. Chips was a sentry dog with General Patton's Africa campaign, as well as with the 3rd Division of Patton's Seventh Army in Sicily. Chips was the first dog to receive the Silver Star and the Purple Heart, (which were ultimately rescinded because the military determined that medals are meant for humans only).

Most of the dogs who survived the war came back home to live with either their original owners or retired with their human soldier partner. In Susan Wilson's A Man of His Own, Pax ends up living with both.
First image: Logo of the Dogs for Defense organization.
Second image: From Community-2 Web TV. Proud Pups! Their moms are war dogs!
Third image: From 26thscoutdog.com. War dogs shown with T5 Paul Biancucci of Hartford, Conn, T5 Edwin Smith of Cross Plains, Ind., T5 George Bertram of Ceder Ridge, Colo, T5 Milton Leavitt of Newburyport, Mass, and T5 Robert K. Robertson of Los Angeles, CA. Near Luzon in January '45.
Filed under Cultural Curiosities
This "beyond the book article" relates to A Man of His Own. It originally ran in October 2013 and has been updated for the January 2015 paperback edition. Go to magazine.
This review is available to non-members for a limited time. For full access become a member today.
Membership Advantages
Reviews
"Beyond the Book" articles
Free books to read and review (US only)
Find books by time period, setting & theme
Read-alike suggestions by book and author
Book club discussions
and much more!
Just $45 for 12 months or $15 for 3 months.