The Post World War II German Black Market
This article relates to Then We Take Berlin
To say that by the end of World War II Germany was in tatters is a massive understatement. Infrastructure services were at a standstill, craters gaped where centuries-old buildings had once stood, the economy was based upon currency – the Reichsmark – that was essentially worthless. Worse, the government was forced to ration everything from cigarettes to milk. Everything that sustains life was in drastically short supply. Thanks to human ingenuity, however, where there is a demand there is someone willing to step up and become a supplier. This miasma of need proved to be rich soil that nourished an equally rich black market.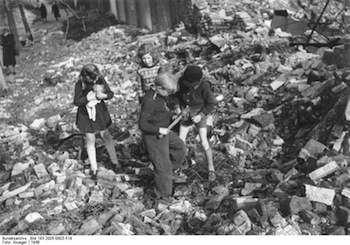 Since the government's system of rationing was based upon earned return for labor performed rather than need, anyone who could work received more rations than, say, a pregnant woman who could not. Thus it was mainly children and the elderly who suffered from what was grimly called "death rations" because no one could survive on the amount of calories in the lowest ration bracket. So people began bartering for anything that would put sustenance on the table. Likewise, habits must be fed at any cost and so cigarettes and alcohol became key commodities as well. American soldiers, for example, bought cigarettes for ten cents a pack in the PX, the exchange store in the army base, and sold them at multiple times the price they paid. The American soldiers weren't the only ones, British and Russian soldiers as well as German civilians saw the fertile opportunity to capitalize on the state of chaos, particularly in Berlin and Frankfurt.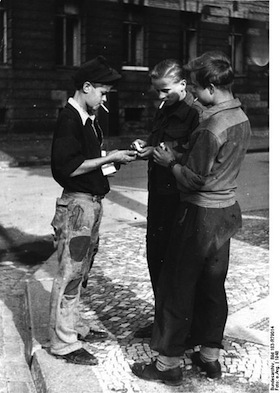 In November 1945, it is estimated that the Black Market filled 20% of Germany's food supply. And by June 1946 that figure had increased to 50%. But that wasn't enough to keep families clothed, fed and sheltered. Apparently the Nazis weren't the only looters taking advantage of the war to obtain art and other items of value. Since many Germans had little to nothing to barter in exchange for food for their starving families, they traded – for a fraction of their value - family heirlooms including, but not limited to, original works of art, family heirlooms, porcelain, jewelry and antiques that the black marketeers (schiebers) shipped back home. Cash too. Indeed according to one source, "In July 1945 the army's finance office in Berlin disbursed one million dollars in pay, yet soldiers sent some three million dollars to addresses in America."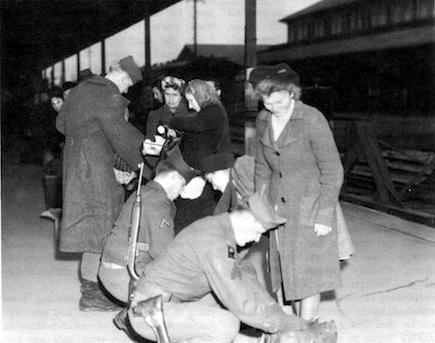 Apparently – and Lawton's research (for Then We Take Berlin) seems to confirm this – the black market attracted players from every level of the military. In the United States the Senate launched its own investigation into these affairs based largely upon the complaints of a Col. Francis P. Miller, who was Executive Officer and Plans and Policy Officer with the Office of the Director of Intelligence (ODI) at the US Office of Military Government (OMGUS) headquarters in Berlin. And while the British government assigned some 900 officers to investigate the situation, the black market had become so ubiquitous that fear of strict fines (£500) and imprisonment could not put a dent in the activity. It was not until the Marshall Plan (or European Recovery Plan, an American program to help stabilize Europe after World War II) was put into place in 1948, and the German economy began to stabilize, that conditions optimal for a black market withered and eventually ceased.
First image: Berlin children playing in rubble post Word War II.
Second image: Teens buying cigarettes off of the Black Market.
Third image: Troops search luggage for Black Market Goods. (image from: US Army Center of Military History
This "beyond the book article" relates to Then We Take Berlin. It originally ran in October 2013 and has been updated for the November 2014 paperback edition.
This review is available to non-members for a limited time. For full access become a member today.
Membership Advantages
Reviews
"Beyond the Book" backstories
Free books to read and review (US only)
Find books by time period, setting & theme
Read-alike suggestions by book and author
Book club discussions
and much more!
Just $10 for 3 months or $35 for a year