Posters
This 8.5 x 11 inch poster is available to all subscribing libraries. Just let us know how many copies you'd like and we'll mail them to you, along with printed tent cards and bookmarks.

If you wish to adapt this to include your library's own unique BookBrowse URL, you can download a high resolution copy (if you change the URL, don't forget to change the QR code too!)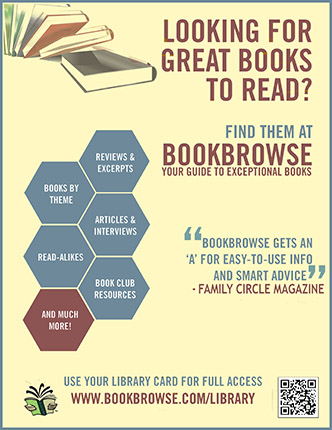 All print materials are printed with a simple and easy to remember URL: bookbrowse.com/library.

Patrons can login through the link on your library's website. But they can also login at bookbrowse.com/library. Patrons can also login by clicking the prominent "Library" button at the top right of all BookBrowse's pages.

In most cases, IP recognition enables patrons and librarians within the library to access BookBrowse without having to login at all - just by going to a BookBrowse page.
*In the normal course of events, additional shipments are free of charge, but BookBrowse does reserve the right to charge a nominal fee equivalent to the cost of printing and shipping if additional orders seem overly frequent or excessive.