INTRODUCTION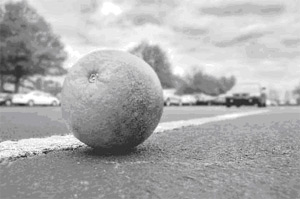 A forsaken orange sits in a Raleigh, North Carolina, parking lot.
PHOTO BY JONATHAN BLOOM
Willful waste brings woeful want.
–Thomas Fuller, seventeenth-century
English clergyman and historian
Every day, America wastes enough food to fill the Rose Bowl. Yes, that Rose Bowl - the 90,000-seat football stadium in Pasadena, California. Of course, that's if we had an inclination to truck the nation's excess food to California for a memorable but messy publicity stunt.

As a nation, we grow and raise more than 590 billion pounds of food each year. And depending on whom you ask, we squander between a quarter and a half of all the food produced in the United States. Even using the more conservative figure would mean that 160 billion pounds of food are squandered annually - more than enough, that is, to fill the Rose Bowl to the brim. With the high-end estimate, the Rose Bowl would almost be filled twice over.

If those numbers don't hit home, consider that the average American creates almost 5 pounds of trash per day. Since, on average, 12 percent of what we throw away is or once was edible, we can estimate that each one of us discards half a pound of food per day. That adds up to an annual total of 197 pounds of food per person. Ominously, Americans' per capita food waste has doubled since 1974.

How we reached the point where most people waste more than their body weight - or at least the average American body-weight - each year in food is a complicated tale. In short, Americans' gradual shift from a rural, farming life to an urban, non-agricultural one removed us from the sources of our food. Our once iron-clad guarantee of inheriting generations of food wisdom be­came less so, as busier lives forced many of us to leave the kitchen or spend less time there. Convenience began to trump homemade, and eating out drew level with dining in. We have higher standards for our meals, but diminished knowledge about how to maximize our use of food. Many of us don't even trust our noses to judge when an item has gone bad. Yet, our awareness of pathogens has multiplied, and we apply safety rules to food with the same zeal­ous caution that we apply to allergies, kids walking to school, and most every­thing in modern life.

Certainly, some food loss is unavoidable. For example, there are many potential pitfalls, such as harsh weather, disease, and insects invading farmers' fields, that are outside of our control. And then there's storage loss, spoilage, and mechanical malfunctions. I classify all of the above factors as loss, not waste (also omitted when I use the term "waste" are inedible discards like peels, scraps, pits, and bones). Broadly speaking, I consider food "wasted" when an edible item goes unconsumed as a result of human action or inaction. There is culpability in waste. Whether it's from an individual's choice, a business mistake, or a government policy, most food waste stems from decisions made somewhere from farm to fork. A grower doesn't harvest a field in response to a crop's low­ered price. Grocers throw away imperfect produce to satisfy their (and, as consumers, our) obsession with freshness. We allow groceries to rot in our refrigerators while we eat out, and when at restaurants we order 1,500-calorie entrées only to leave them half eaten.

We're not going to revert to an agrarian society anytime soon, but that doesn't mean we can't have a greater appreciation of our food. While completely eliminating food waste may be impossible, reducing it isn't. Improve­ments are needed at all steps of the food chain, but most importantly at the part that involves us. Buying wisely, and maximizing our food use once it's in our possession, would go a long way toward minimizing that daily Rose Bowl–sized pile of waste.

Excerpted from American Wasteland by Jonathan Bloom. Copyright © 2010 by Jonathan Bloom. Excerpted by permission of Da Capo Press. All rights reserved. No part of this excerpt may be reproduced or reprinted without permission in writing from the publisher.