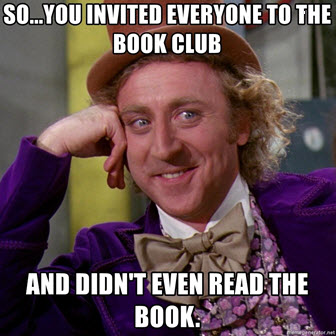 Has your book group ever become frustrated by members who join in book discussions without having finished the book -- or, in some cases, without even starting it?
If so, you're not alone. According to our research, 15% of reading group members say their book club has experienced problems around this issue; and a quarter of those who left a previous book club due to dissatisfaction cited frustration over members attending without having read the book, or not attending meetings at all, as a factor in their decision to leave.

It was really frustrating to spend time reading the book, even if I wasn't finding it easy, and then to come to the meeting to find others hadn't bothered to read it.

I work full time and have children; I made book club my priority, sometimes it would be the only night out I had all month, but some others didn't turn up regularly or didn't read the book, so I decided I had better ways to spend my time.
In smaller groups, having members who do not read the book can be a problem because there may be insufficient people to hold a meaningful discussion, but another challenge, irrespective of group size, is when members who have not finished the book complain about plot spoilers in the discussion, or get bored and want to talk about other things.

So how best to deal with this issue? Is it better to include everyone even if they haven't read the book? Life happens to all of us at one time or another, right? Or is it completely reasonable to exclude those who aren't informed enough to carry on a conversation about it? Is there a better option that falls somewhere in the middle?

While there isn't a simple, cure-all answer -- after all, no two book clubs are exactly the same and what works for one group might not work for another -- in our 15 years of book club research and experience, we've learned a great deal about what various groups have tried, what did or didn't work for them, and what some of the happiest book clubs have in common.
How Book Clubs Respond
Clearly define rules and set expectations
Some groups have a rule that members must have finished the book to join a meeting and may give offending members warnings if they don't comply. If the person continues to ignore the rules, they may be asked to leave.
We un-invited a member who did not read the books.

We had one member who hated reading books! We simply refused to sit and gossip all night.
We've found that collectively identifying the group's core objectives, and thus what is expected from the membership, often prevents uncomfortable interactions; for example, asking a member to leave because they consistently don't read the books is less likely to be seen as a personal attack if everyone understands that doing so is an agreed expectation for the group.
Foster a Respectful Environment
Some groups allow members to join in conversations without having read the book but make it clear that it is not acceptable to prevent others from discussing it in full. In this way, people who haven't read the book won't feel personally rejected or ostracized, but they also respect that others are there to discuss the book including spoilers.
Our rule is that you are always welcome to attend book club but if you haven't read the book you may only listen.

We agreed that we would not curtail discussion to accommodate those who have not read or finished the book.
Keep Lines of Communication Open
Book clubs are often made up of friends, neighbors, or colleagues, so a confrontational situation can follow members into other aspects of their lives. And, depending on how it's handled, calling someone out in front of others can lead to hurt feelings or cause unwanted embarrassment. Perhaps because of this, a number of book club members we surveyed said that they prefer not to address problems at all when they arise.

But in our research we've found that, while sometimes problems resolve themselves, many times they do not. As such, ignoring the issue can result in a pressure cooker situation where frustration builds up and members ultimately choose to leave the group - or worse, the group ends up disbanding altogether.
Problems have been left unresolved, and we have lost some members because of it.

Issues have not been dealt with. It feels like a sinking ship.
Structured, honest communication - no matter what the problem is - often prevents issues from festering and intensifying. One great way to encourage this kind of openness is to set aside time for an annual Book Club Health Check - an opportunity to review and discuss how things are running and provide a forum for new ideas.

This process will give your group a deeper understanding of what's working, what isn't, and why; and also provides everyone with the opportunity to identify how they can adapt and evolve together. For instance, if a book club member regularly doesn't read the books, is it because the book selections aren't to their taste? If so, are their reading interests just a bad fit for the group, or is there a need to look at how books are selected? Or, if a number of people aren't finishing, is the group meeting too frequently, or are the books too long? Asking questions such as these, and being open to candid, constructive conversations will help your book club fine tune its operations, leading to a happier, healthier group.

Download a one-page version of The Book Club Health Check

For more information see BookBrowse's book club advice pages, which are useful resources for both new and established groups; and other blog topics based on our Inner Lives of Book Clubs research.


---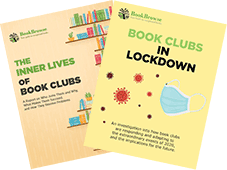 The findings in this article are drawn from our published research: The Inner Lives of Book Clubs and/or Book Clubs in Lockdown. More about both at bookbrowse.com/wp.

You can see more articles in The Inner Lives of Book Clubs section of this blog; and receive future articles in your mailbox by subscribing to our newsletters, in particular Book Club News or Librarian News.

And if you're looking for an expert on book clubs for interview, please contact us!