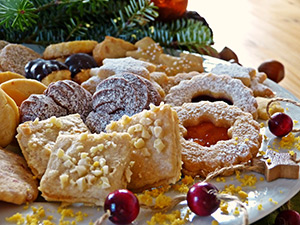 Food is so closely tied with social gatherings, it's no wonder that it's often present at book club meetings. In fact, according to our research report, The Inner Lives of Book Clubs, 91% of private book clubs have food at their meetings, ranging from a snack (41%) to a full hostess-cooked meal (13%) or potluck (13%). Among public book clubs (i.e. groups that are open to anyone to join, many of which meet in libraries), 61% have some sort of food but the great majority keep it very simple.

While many survey respondents commented that book clubs are a good place to connect with their community while sharing good food, the responsibilities involved can become a point of contention among members, in particular when the inclusion of food spurs competitive hosting.

When book club members take turns hosting or bringing food to a meeting, it's easy for each person to feel that they must match, or improve upon, the previous offerings and, before you know it, bringing the "snack" has gone from being fun to being a cause of stress.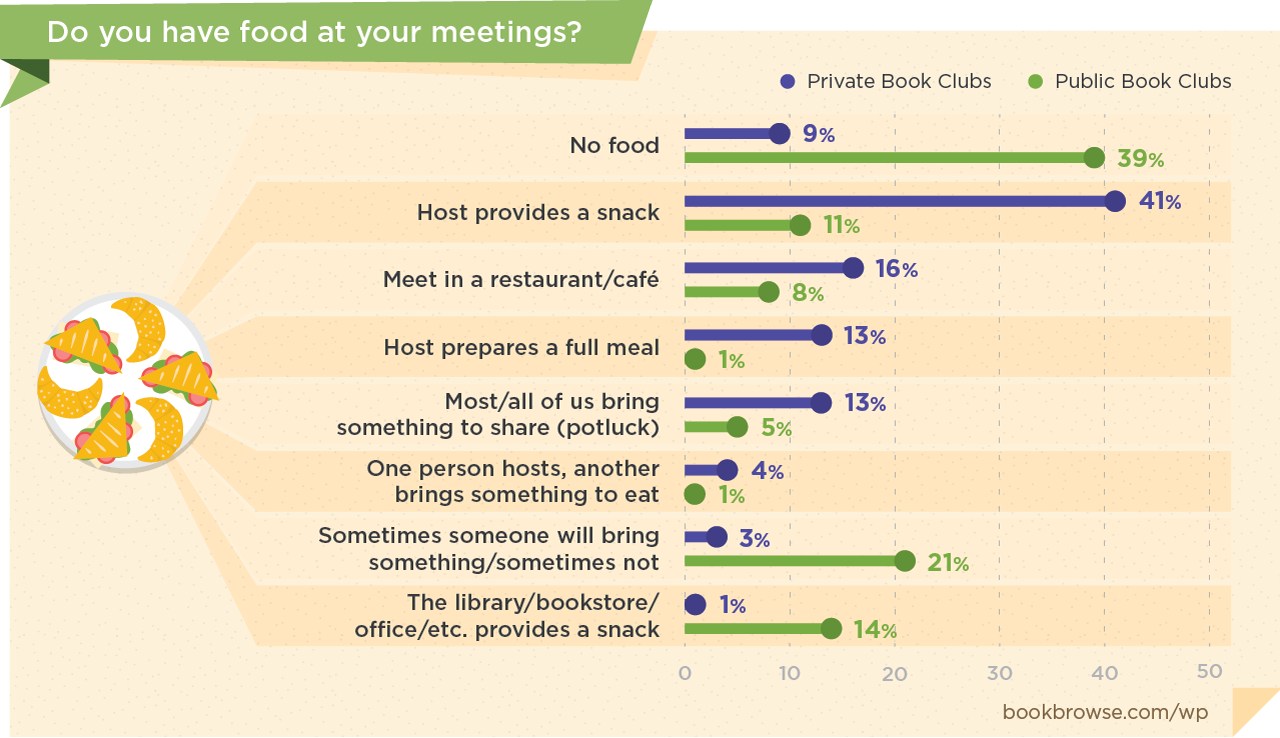 And though this might not constitute a major problem for many book groups, for a small percentage it is a considerable issue that can cause tension and lead to dissatisfaction. 2% of those currently in private book clubs say their group has encountered difficulties when hosting has gotten out of control; and considerably more respondents comment that they wish their group could dial back the hosting a bit. Among those who left a previous book club due to dissatisfaction, 4% cited competitive hosting as a key factor.

So what is the best way to approach the issue if you feel that your book club is suffering from competitive hosting?

You could take the lead yourself and, the next time it's your turn to host, provide something simple but tasty such as cheese and crackers, or a plate of vegetables and a dip - thus taking the pressure off the next person; but if the group has become accustomed to elaborate eats this might not go down well. So, we recommend you follow the example of groups in our survey who successfully resolved this issue by having an open discussion on the topic and, if most of the group feel the same way you do, simply agree to cut back on the hosting! As a rule, even if there don't seem to be any obvious issues in your book group, it's a good idea to set aside time at least once a year for the group to discuss how things are running, and provide a forum to raise issues and new ideas. For more on this, see The Book Club Health Check.
"We found that some of us were guilty of overdoing the "snacks" and producing full meals, so we dialed back on cooking efforts so as not to create a competitive atmosphere for hosts."
Alternatively, if the group members like to flex their culinary muscles, you could suggest that the food for the meetings generally be kept simple but that every now and then you have a "theme" get-together based on the particular book you're discussing and everybody brings a dish appropriate to the time period or geographical setting of the book. You could even go to town and turn it into a costume party with members dressing as one of the characters or, at least, in theme with the book. Why not invite a guest - spouse, partner, sister, friend - and turn it into a party? Then next month you can get back to the cheese and crackers!
"Themed potlucks can be fun occasionally, but not every month. Sometimes I'd make excuses not to go. Luckily, it turned out that some of the others felt the same way, so now we keep things simple and just occasionally splash out."
See also BookBrowse's book club advice pages, which are useful resources for both new and established groups; and other blog topics based on our Inner Lives of Book Clubs research.



---
Many of the findings in this article are taken from The Inner Lives of Book Clubs: A Report on Who Joins Them and Why, What Makes Them Succeed, and How They Resolve Problems, which is available to buy in PDF or print.

You can see more articles in The Inner Lives of Book Clubs section of this blog; and receive future articles in your mailbox by subscribing to our newsletters, in particular Book Club News or Librarian News.

And if you're looking for an expert on book clubs for interview, please contact us!