I learned to read when I was four years old and books have been a very important part of my life ever since. There were plenty of them around. My parents bought many books - cheap editions of classics available in regular bookstores, pre-war editions of books one could only get at second-hand bookstores and flea markets. There were libraries, too, but more popular titles were hard to get and there were no holds, unless a librarian took pity on me and helped me secure what I craved.
Why did I read so much? Because books told fascinating stories and because life outside books was scary and restricted. In the Poland of my childhood, the 50s were still post-war years, with ruins lining up the streets. My parents did not like to let me play outdoors without supervision. Books were a safe passion.

But there was more to my love of reading. The world around, still scarred by the great war, was filled with silences. My parents didn't like to speak of the past or - in the precarious political situation - offer their opinions on what was happening in the present. The memories of the war were painful, and so were the dashed post-war hopes. "You'll understand it all when you grow up," I often heard. In the world filled with silences, reading becomes a guidebook through the complexities of life. I read to find out why my mother always cries when she attempts to speak of the war, and why she dismisses the official propaganda with a sneer.

And then there were the borders. Always present in our "prison camp" as we referred to the socialist block of countries "liberated" by the Soviet Union from the Nazis. Beyond these borders - well guarded and impossible to cross - there were other worlds. Books provided the only available window through which I could reach them. And so I read. Of Mary Poppins, Tom Sawyer and Huckleberry Finn. Of Anne of Green Gables in the mysterious, exotic Prince Edward Island and Anne Frank hiding from the Nazis in a Dutch attic.

They were my friends, companions of my youth. I turned to them for instruction, consolation and escape from the world that surrounded me.

I found a whole world in them.

I still do.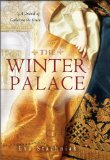 Eva Stachniak was born in Wroclaw, Poland. She moved to Canada in 1981 and has worked for Radio Canada International and Sheridan College, where she taught English and humanities. Her first short story, "Marble Heroes," was published by The Antigonish Review in 1994, and her debut novel, Necessary Lies, won the Amazon.ca/Books in Canada First Novel Award in 2000. She is also the author of Garden of Venus, which has been translated into seven languages. She lives in Toronto.

Her latest novel, The Winter Palace, is just published in hardcover (and went straight to #3 on the Globe and Mail's bestseller list in its first week on sale!) Visit her at evastachniak.com and browse reader reviews of The Winter Palace here.