Lisa Unger Author Biography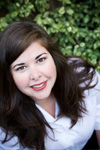 Photo: Tanya Sharkey
Lisa Unger is the New York Times and internationally bestselling author of fourteen novels, including Darkness, My Old Friend, Fragile, Die For You, Black Out, Sliver of Truth, Beautiful Lies, also her latest thriller Ink and Bone.

Her books are published in twenty-six languages worldwide, have sold millions of copies and have been named "Best of the Year" or top picks by the Today show, Good Morning America, Walmart Book Club, Target, Harper's Bazaar, Family Circle, Good Housekeeping, Publishers Weekly, Washington Life, New York Daily News, Entertainment Weekly, Sun Sentinel, Milwaukee Journal-Sentinel, Suspense Magazine, Amazon and Independent Booksellers.

She has been a finalist in or winner of numerous literary awards including the Goodreads Choice Awards for Best Book, ...
... Full Biography
Author Interview
Link to Lisa Unger's Website