Alain De Botton Author Biography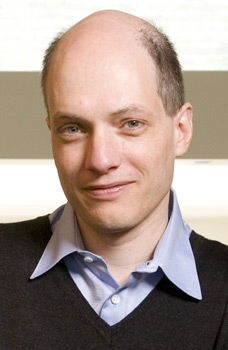 Photo copyright Miriam Berkley
Alain de Botton was born in Zurich, Switzerland in December 1969 and educated in Switzerland and England. His family originates from the Spanish peninsula, from the small Castilian town of Boton (now vanished). They left in 1492, along with the rest of the Sephardic Jewish community, and eventually settled in Alexandria, Egypt, where de Botton's father was born.

He is a writer of essayistic books that have been described as a 'philosophy of everyday life.' He's written on love, travel, architecture and literature. His books have been bestsellers in 30 countries. Alain also started and helps to run a school in London called The School of Life, dedicated to a new vision of education.

His work consists of Essays in Love (1993), Kiss and Tell (1995), How Proust Can Change Your Life (1997), ...
... Full Biography
Link to Alain De Botton's Website
Name Pronunciation
Alain De Botton: AL-on de BO-ton (the letter n at end of Alain and Botton is barely pronounced