Find a book
Find Your Next Great Read!
Readers Recommend
Mighty Justice
by Dovey Johnson Roundtree & Katie McCabe

An inspiring life story that speaks urgently to our troubled times.
Reader Reviews

Nothing to See Here
by Kevin Wilson

A moving and uproarious novel about a woman who finds meaning caring for two children with remarkable abilities.
Reader Reviews
Members read and review books before they're published. See what they'll be reviewing soon.
BookBrowse Book Club

Today We Go Home
by Kelli Estes

Illuminating and deeply human, Today We Go Home shines a light on the brave military women of the past and present.
Win this book!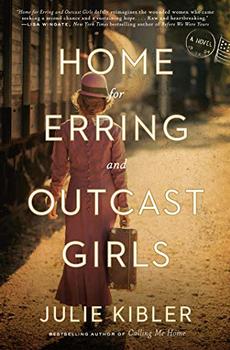 From the author of
Calling Me Home
An emotionally raw and resonant story of two young women connected by a home for "fallen girls," and inspired by historical events.
Word Play
Solve this clue:
and be entered to win..
Book Club Recommendations
The Dutch House
by Ann Patchett

Ann Patchett, the New York Times bestselling author of Commonwealth and State of ...

Book Reviewed by
Rory L. Aronsky

The Winter Soldier
by Daniel Mason

By the international bestselling author of The Piano Tuner, a sweeping and unforgettable ...

Book Reviewed by
Poornima Apte

Waiting for Eden
by Elliot Ackerman

From the National Book Award finalist, a breathtakingly spare and shattering new novel ...

Book Reviewed by
Kim Kovacs
Give a BookBrowse Membership
A BookBrowse Membership is the ideal gift for your book loving friends and family.
Your guide toexceptional books
BookBrowse seeks out and recommends the best in contemporary fiction and nonfiction—books that not only engage and entertain but also deepen our understanding of ourselves and the world around us.