Find a book
Find Your Next Great Read!
Readers Recommend
And They Called It Camelot
by Stephanie Marie Thornton

An unforgettable portrait of American legend Jackie O.
Reader Reviews

I Want You to Know We're Still Here
by Esther Safran Foer

"A vivid testimony to the power of memory."
- Kirkus (starred review)
Reader Reviews
Members read and review books before they're published. See what they'll be reviewing soon.
BookBrowse Book Club

Resistance Women
by Jennifer Chiaverini

An enthralling saga, inspired by real events, that recreates the danger and sacrifice of the Weimar Republic.
Win this book!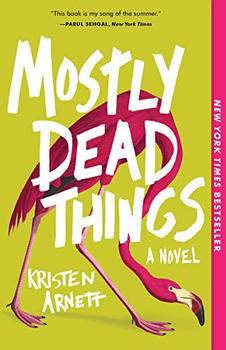 Mostly Dead Things
by Kristen Arnett
"Hilarious, deeply morbid, and full of heart."
- BuzzFeed
Wordplay
Solve this clue:
and be entered to win..
Book Club Recommendations
The Truants
by Kate Weinberg

Seductive, unsettling, and beautifully written, The Truants is a debut novel of literary ...

Book Reviewed by
Elisabeth Cook

Inheritance
by Dani Shapiro

A new memoir about identity, paternity, and family secrets--a real-time exploration of the...

Book Reviewed by
Michael Kaler

Follow Me to Ground
by Sue Rainsford

A haunted, surreal debut novel about an otherworldly young woman, her father, and her ...

Book Reviewed by
Dean Muscat
Give a BookBrowse Membership
A BookBrowse Membership is the ideal gift for your book loving friends and family.
Your guide toexceptional books
BookBrowse seeks out and recommends the best in contemporary fiction and nonfiction—books that not only engage and entertain but also deepen our understanding of ourselves and the world around us.