Find a book
Find Your Next Great Read!
Readers Recommend
I Want You to Know We're Still Here
by Esther Safran Foer

"A vivid testimony to the power of memory."
- Kirkus (starred review)
Reader Reviews

Miss Austen
by Gill Hornby

A witty, poignant novel about Cassandra Austen and her famous sister, Jane.
Reader Reviews
Members read and review books before they're published. See what they'll be reviewing soon.
BookBrowse Book Club

The Henna Artist
by Alka Joshi

The Henna Artist opens a door into a world that is at once lush and fascinating, stark and cruel.
Win this book!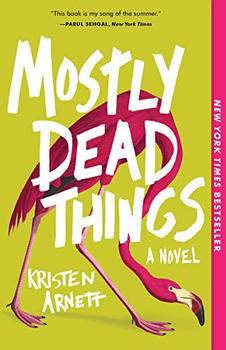 Mostly Dead Things
by Kristen Arnett
"Hilarious, deeply morbid, and full of heart."
- BuzzFeed
Wordplay
Solve this clue:
and be entered to win..
Book Club Recommendations
Give a BookBrowse Membership
A BookBrowse Membership is the ideal gift for your book loving friends and family.
Your guide toexceptional books
BookBrowse seeks out and recommends the best in contemporary fiction and nonfiction—books that not only engage and entertain but also deepen our understanding of ourselves and the world around us.